Dyvi switcher empowers WDR to deliver story-first live sports programming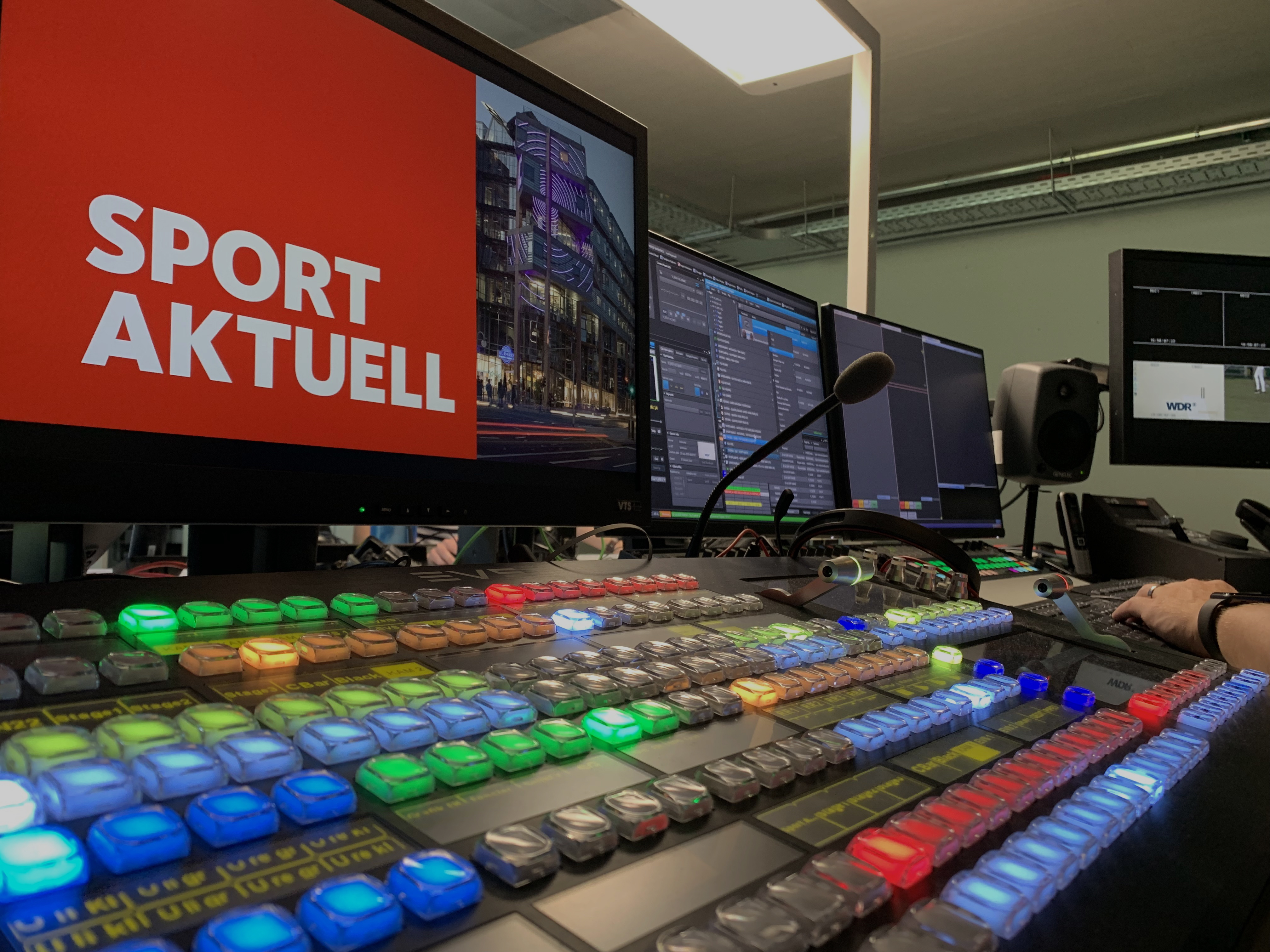 Customer profile
Westdeutscher Rundfunk (WDR) is one of Germany's largest public-broadcasting institutions and part of the ARD network. With its main base in Cologne, the public broadcaster independently produces and broadcasts half-hour evening television news content across 11 regions in Germany.
As well as contributing to the output of the national television channel Das Erste, WDR operates the WDR Television service and six regional radio networks. One of its flagship programs is the "Sportschau" sports report, a magazine show broadcast on ARD, which has covered a range of sports since its launch in 1961, including the German Bundesliga.
The challenge
The WDR mantra has shifted recently from broadcast-first programming to story-first where creating the most engaging content is key, regardless of the platform it's delivered on. To achieve this, WDR undertook a major transformation of its studio to help it produce shows that meet the demands of today's viewers.
Ahead of the 2017/2018 Bundesliga season, WDR wanted to put in place a state-of-the-art facility with a brand-new cross-media production infrastructure to centralize its multimedia production processes. It merged its television, radio and online editorial offices and opened a new facility called Sports Campus - a 1700 square meter workspace home to more than 90 journalists, a control room and studio dedicated to WDR's sports output. As such, it needed to be fitted with a production infrastructure that matched the broadcaster's story-first strategy.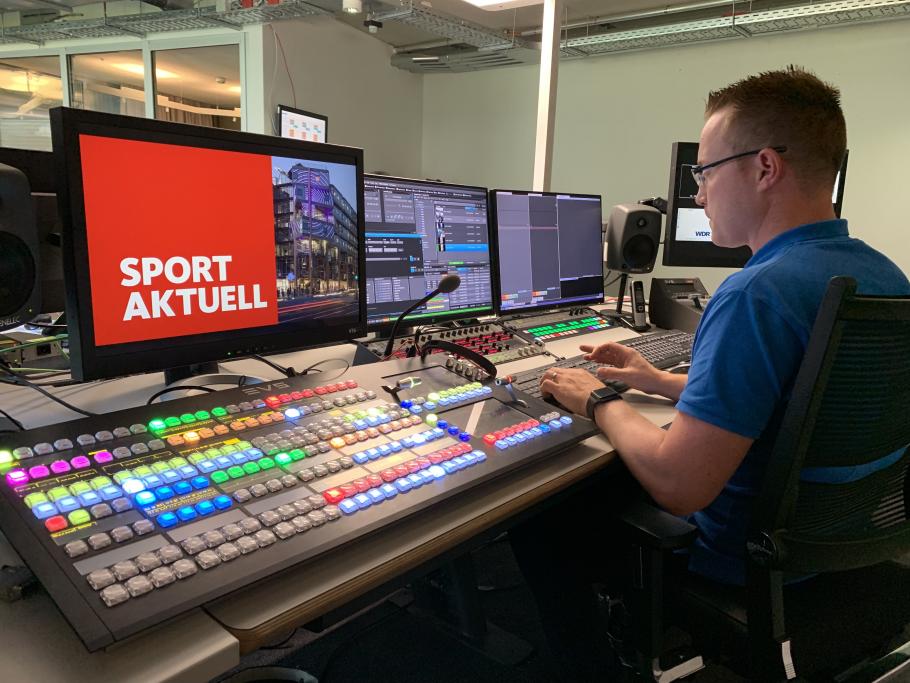 The solution
As WDR had already installed a Dyvi switcher in control room B, for the control of the LED video walls on the set of the Sportschau program, the team was familiar with the flexibility of the software-defined switcher. For example, Dyvi can cue-up and trigger graphics and video packages out to the entire video wall or just specific parts of it.
"During the first project, my team and I were surprised at Dyvi's fully customizable design", said Jochen Stein, Head of the Vision Mixer Department at WDR. "EVS even went one step further, developing new features for us to streamline our daily workflows for a variety of studio productions including - news bulletins, weather forecasts, talk shows, magazine programs and sports broadcasts."
EVS significantly improved the color correction function for each individual Input and Output. This lets the operator correct the color balance of each LED panel so that on-screen content looks exactly as intended and all the panels match when multiple ones are used simultaneously.
This was followed by external font support for the on-air graphics, which is important in ensuring a consistent brand look across all the graphics used on Sportschau. However, this was just the first phase of WDR's use of Dyvi.
"For our second project, we planned to use Dyvi as the central part of the Sport Campus. We already knew how flexible the system was, which gave us that much needed creative freedom to provide our editorial staff with the best solution on the market."
Today, Dyvi remains at the heart of the Sport Campus, acting as the main switcher in the production of broadcast, radio and online media such as Facebook or YouTube live streams, as with the NBA or DFB-Cup coverage. All live studio feeds and archived content, alongside clips and live feeds from mobile and remote production facilities, are sent to the Dyvi switcher, which combines everything together, outputting all WDR's sports programming.
Furthermore, by combining the main program and the on-camera video wall control output, Dyvi triggers an EVS XT3 server to play out content without needing an additional operator, seamlessly orchestrating the entire show from Dyvi without requiring extra resources.
Flexibility of software

Since it doesn't rely on a hardware infrastructure, EVS could custom-build add-ons for Dyvi to better customize WDR's workflow.

A powerful infrastructure

WDR quickly realized the potential of the Dyvi switcher and that it could also be used to create production efficiencies for its live sports programming.

Unprecedented creative control

With a friendly user-interface, Dyvi gives WDR all the production capabilities required to make high-value live production content.

Driving story-first production

Dyvi lets operators set up and produce content exactly as they want, enabling WDR to more easily execute its new mantra of story-driven programming.
Outcomes
Following its deployment, the production team at WDR was so impressed with Dyvi, and what it was capable of that they decided that the system would also be perfectly suited for use in its upcoming OB project, as part of the new CMF – OB truck.
"Amidst all the technical improvements and benefits, I have to underline just how easy it is to use EVS' Dyvi switcher. Instead of approaching each vision mix in hardware, boards or mix/effects, our next generation of vision mixer operators can feel more comfortable in working with layers and scenes, similar to what you would get in Photoshop or Adobe After Effects."
With these three Dyvi switchers in place, WDR will benefit from the industry-leading speed and reliability that's the hallmark of EVS technology. The switcher quickly demonstrated its ability to output WDR's valuable live sports content for the passionate fans of Germany's Bundesliga as well as a host of other popular sports. Dyvi also offered a brand-new approach to live production during the coverage of this year's FIFA Women's World Cup and took WDR beyond the limits of conventional hardware switcher design at the UEFA Men's European Under-19 Championship as well as the 2019 CHIO Aachen World Equestrian Festival.