Epsio FX
Graphics effects for high impact highlights
Take your replays and highlights to the next level with fast and easy graphics effects and synchronized data insertions.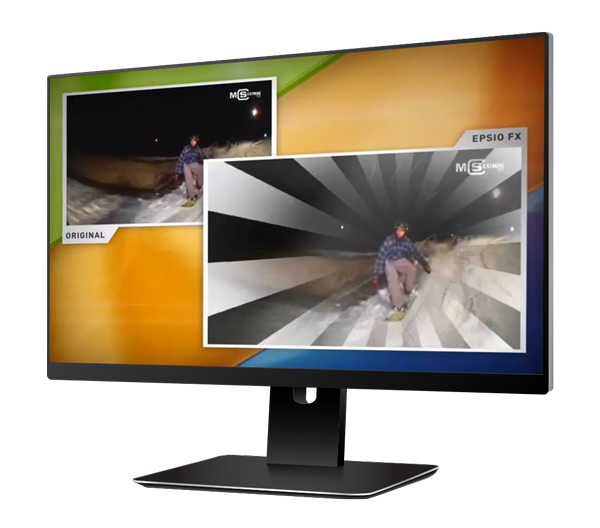 Graphics effects for high impact highlights
With Epsio® FX, you can easily add artistic replay effects and highlight enhancements or insert data graphics from live feeds synchronized with your replays to create high impact visuals – all at the touch of a screen.  Working in conjunction with the LSM User Environment including LSM Remote, LSM Multiviewer and LSM Connect, the Epsio® FX comes loaded with customizable special effects, allowing you to create sophisticated highlights through an efficient, autonomous workflow that saves post-production costs.
With the Reveal mode, Epsio® FX adds even more to the story by letting you insert data graphics from live data feeds synchronized with your replays, either to enrich your highlights sequences (clock, score and keywords), or for use on the fly (clock and keyword metadata).
Enhance highlight playlists

Epsio® FX allows you to bring creative effects to the live production domain.  By giving the LSM operator more editorial power through effects, you can save execution time and improve the production quality of your live show - all through one operator.

Bring effects to live replays

If you don't need the detail of playlist association, Epsio® FX can now be triggered with the Immediate Mode, which allows more rapid effects delivery for your live replays and faster show rollouts, directly from the LSM remote.

Let data tell a new story

In today's sports environment, data is everything. Epsio® FX allows you to leverage that data and reveal it through graphic visuals in the live production.  Now there's no need for long complicated steps to show the alignment of data and your best camera angle.

Customize your effects

Every show is different, and your effects should match your show's personality. Epsio® FX comes loaded with a built-in editor that lets you fine tune and customize your effects to match your show. With the ability to import, adjust and export, you can take your creativity to the next level.
Video Standards Supported : SD 525, 625 - HD 720p 50/60, 1080i 50/60
Reveal Data Sources : OES - Daktronics - Others upon request
Other components required
Display Screen for Configuration and Effect editing
LSM Connect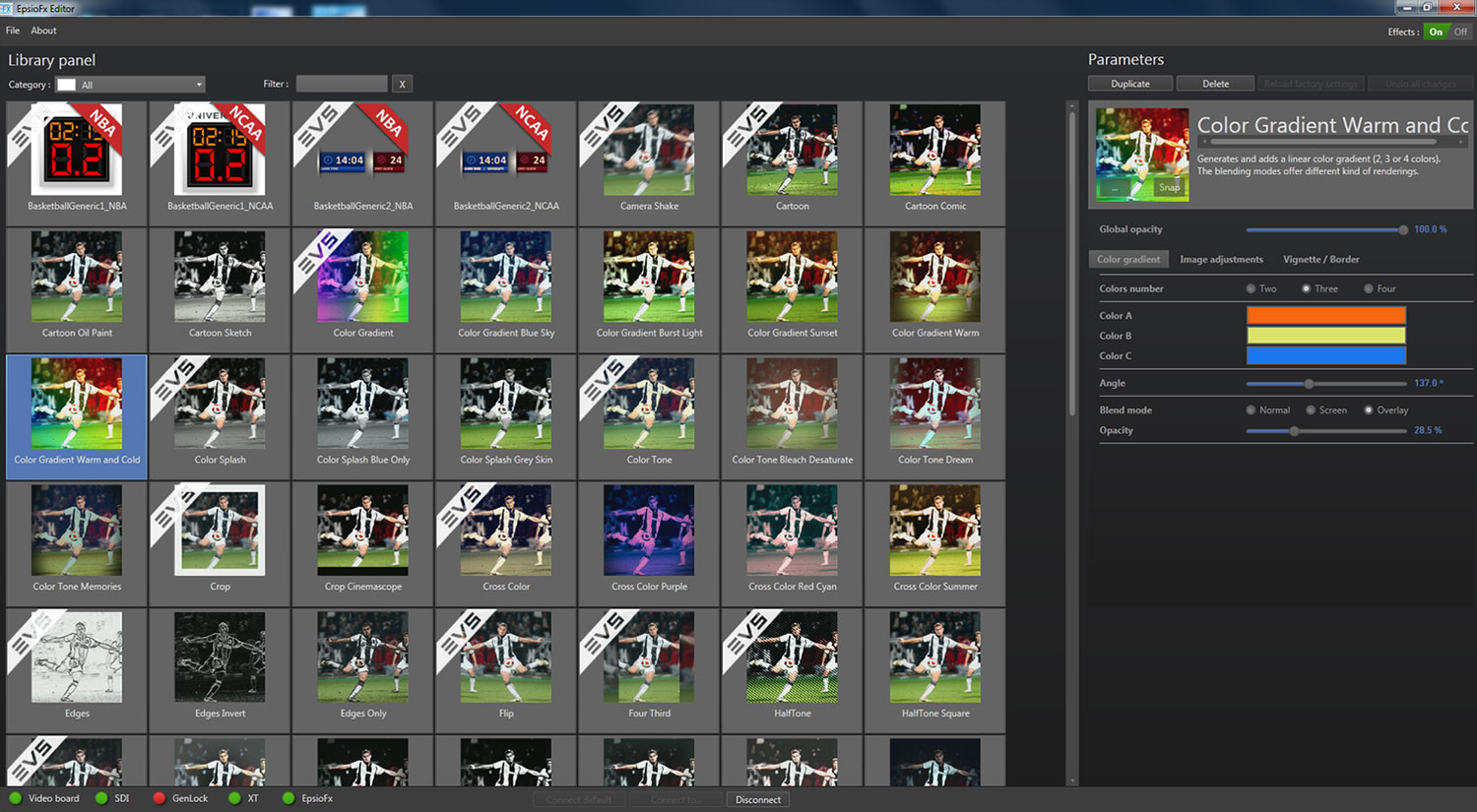 Epsio FX GUI
Get the most out of your EVS equipment
At EVS, we understand how important it is for our customers to gain an edge in the live production environment.  That's why we're empowering operators and technical engineers to become advanced users of our technology – leading to better production values, streamlined workflows and better ROI from your EVS investment.