EVS strengthens and diversifies its Leadership Team with international broadcast talent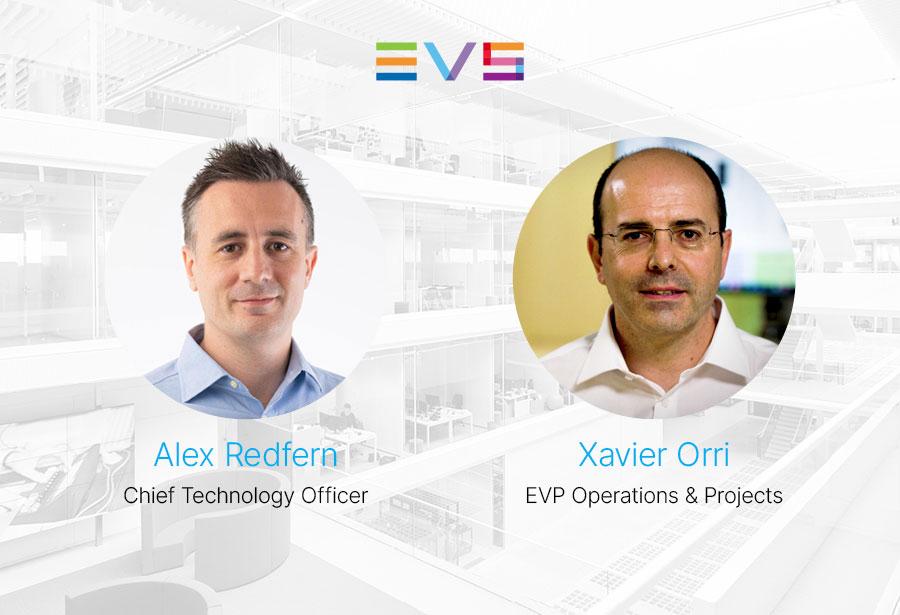 Alex Redfern and Xavier Orri join EVS' Leadership Team as CTO and EVP Operations respectively.
EVS, the leading provider of live video technology for broadcast and new media productions, today announced important evolutions within the Leadership Team following the internal promotions of Alex Redfern to the role of Chief Technology Officer (CTO) and Xavier Orri to the role of Executive Vice President (EVP) Operations & Projects. Their contributions will help further improve the development, delivery and support of EVS solutions and services for superior customer experiences.
These new appointments and additions to the EVS Leadership Team come as EVS embarks on its next stage of growth and prepares to deliver key projects throughout 2022, including some major events on the international sporting calendar.
As CTO, Alex will lead EVS' R&D program, overseeing the development and delivery of innovative solutions to customers while ensuring technology investments are aligned with the company's business goals. As a new member of the Leadership Team, he will also play a key role in evangelizing EVS' technological vision and strategy on a global scale.
Having worked for EVS for over 15 years, Alex brings significant customer, product and business knowledge to this position. He is a UK citizen and joined the company as Technical Support Engineer. Later he took on the role of VP Presales, working closely with EVS' customers in key territories and supporting them on the production of major events. In 2020, his hands-on experience enabled him to successfully lead EVS' global Consultancy Services team of Solutions Architects, focused on developing key workflow-driven and customer-oriented solutions.
As EVP Operations & Projects, Xavier Orri will continue to oversee the implementation and deployment of EVS' solutions worldwide, also driving customer satisfaction through the development of support and professional services. His presence within the EVS Leadership Team will be instrumental in improving the visibility of EVS' customer-facing operations ensuring the company's customer intimacy approach is embedded in all decisions.
Before joining EVS as SVP Operations & Projects in 2020, Xavier worked in various broadcast-related technology companies including satellite communications company ST Engineering iDirect (previously Newtec) where he held positions of increasing responsibility in project management and customer solutions development. His strong technical background has allowed him to approach many complex projects with confidence throughout his career. Xavier is a Spanish citizen.
"I am delighted to have Alex and Xavier join our EVS Leadership Team. I trust their forward-looking perspective and experience will further heighten the awareness of our customers' needs and concerns at all levels of the organization and will help us make great strides towards our ambitious growth objective."