XFile3
Connected archive and transcoding
Simplify your file transfer and archive needs during a live production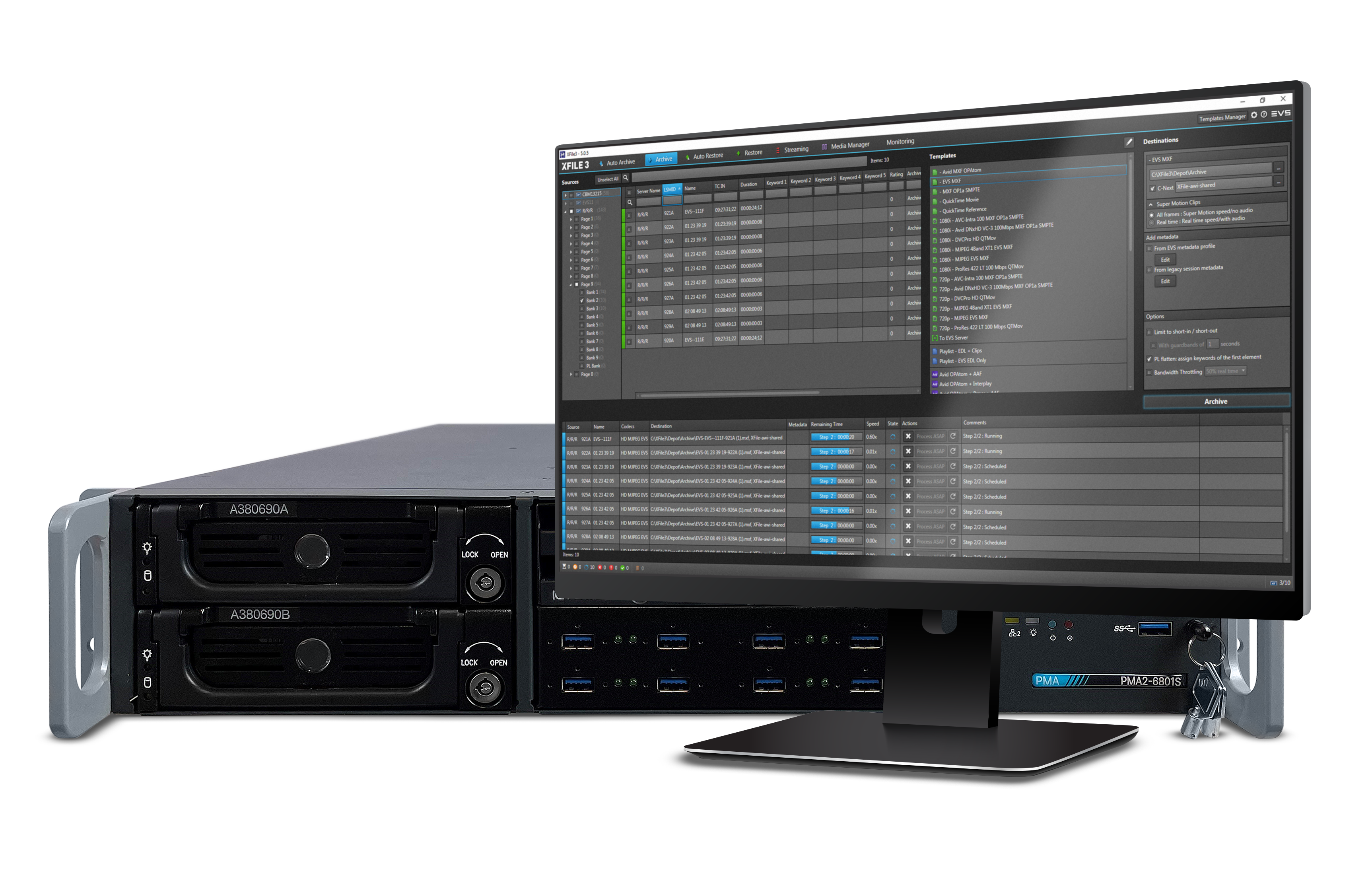 Go with the flow
XFile3® simplifies your file transfer and archive needs during a live production. With higher levels of efficiency and automation, you can archive, transform and restore your selected content - in any format and from multiple destinations. This software application provides complete control and visibility of all file transfers from one single intuitive interface, whether the user is archiving locally or through connected live workflows enabled by C-Next.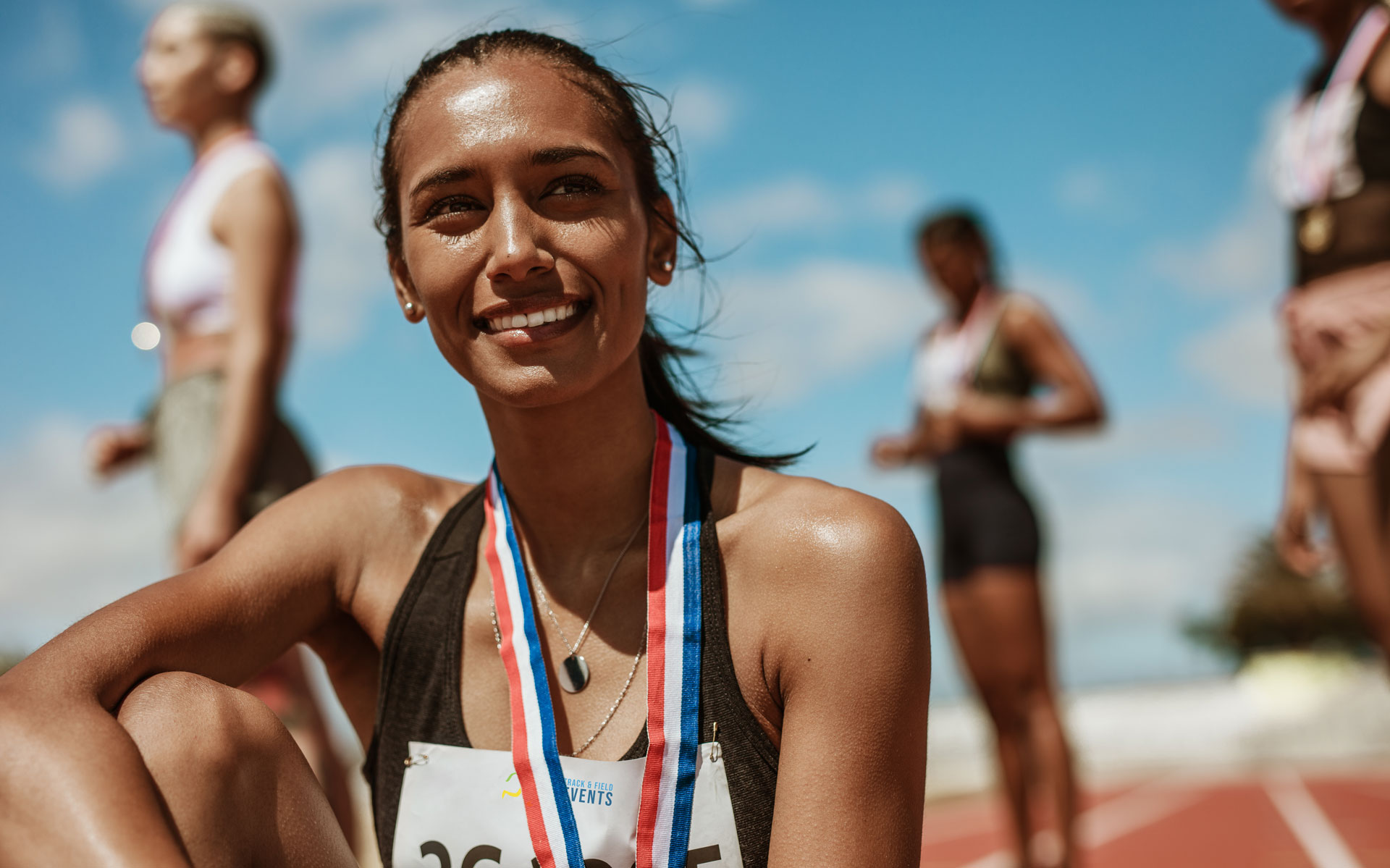 Manage any format

No need to worry about complex file processes. XFile3® allows multi-destination archives in different codecs and file formats, and even supports HDR/SDR cross conversion.

A big time-saver

XFile3® allows immediate access and archiving of EVS server content during the event. You can also live stream your content directly to your post-production platforms for real-time collaboration from one central interface.

Easy restore

You can take current or legacy content and easily restore it for playback. Conversion of formats and resolution is managed for you, including the dynamic conversion of SDR to HDR.

Flexible storage choices

Depending on your needs, your archive and restore functionalities can be done from any location whether it's on a hard drive, network connected storage or in the cloud.

Born from user requests

Now including all the features our user community has been asking for, XFile3®'s intuitive interface gives you complete control and visibility of your content across its lifecycle.
What's New
What's New
What's New
What's New
What's New
What's New
What's New
What's New
What's New
What's New
What's New
Full License for Backup, Restore, Transcode, Edit, Streaming on XF3 Hardware Platform
Transcoding License
Simple user interface
Media management interface for archive comparison
Centralize archive and restore for every EVS server and drive on the show
Easily restore content with built-in transcode on-the-fly
Archive content to multiple destinations at once
UHD <-> HD <-> SD conversion
HDR <-> SDR conversion
Persistent storage options for keeping season-based archives
Connection to Cloud storage for archive/restore
Connection to File accelerators for distribution of content
No heavy lifting of your server infrastructure
Light versions of XFile3® are also available in case you are looking to review files on a PC
XFile Lite – Media Manager Mode
XFile Lite - Simple Backup/Restore Mode
XFile Lite Streaming Only Mode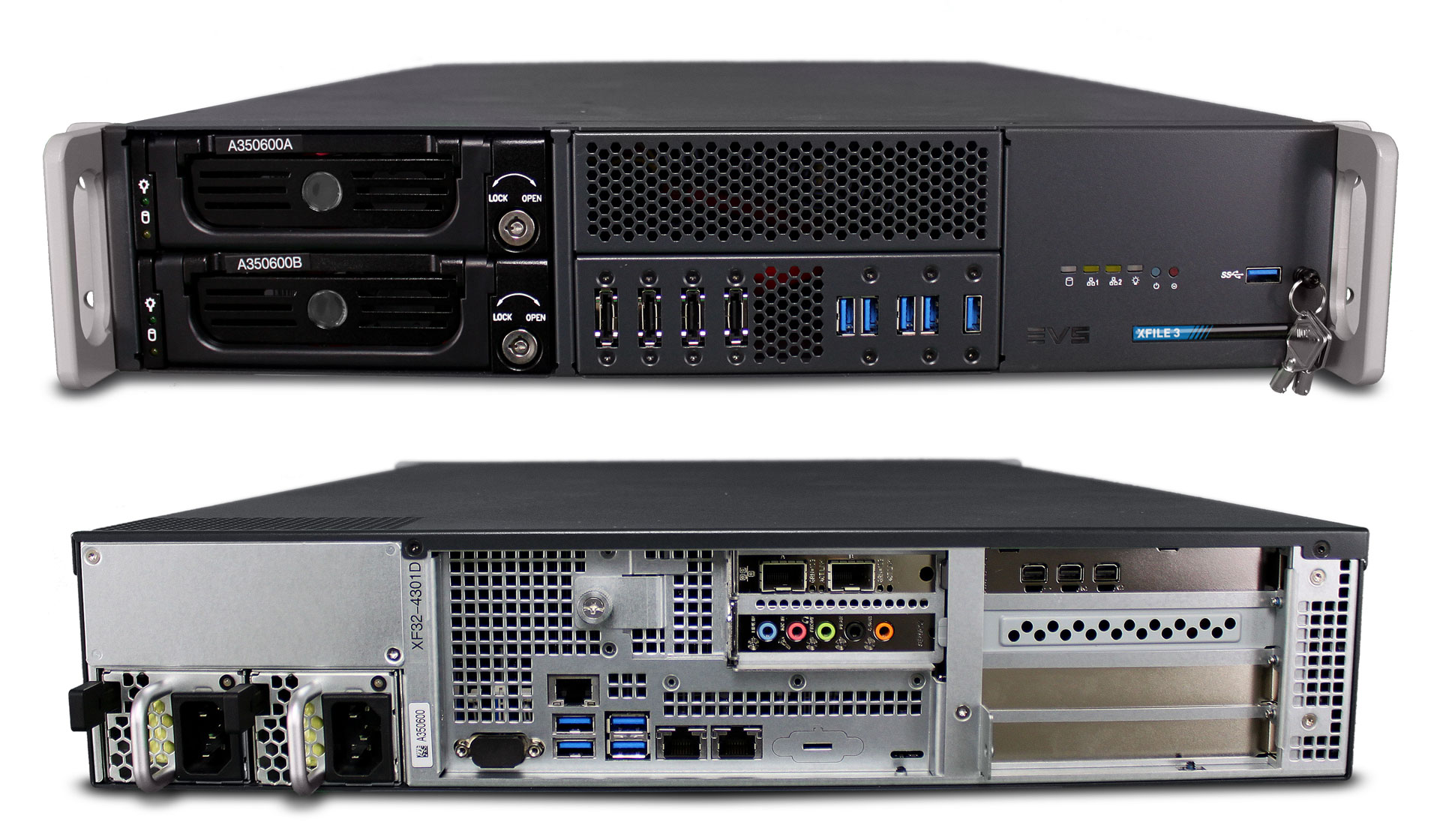 EVS XFile3® front & back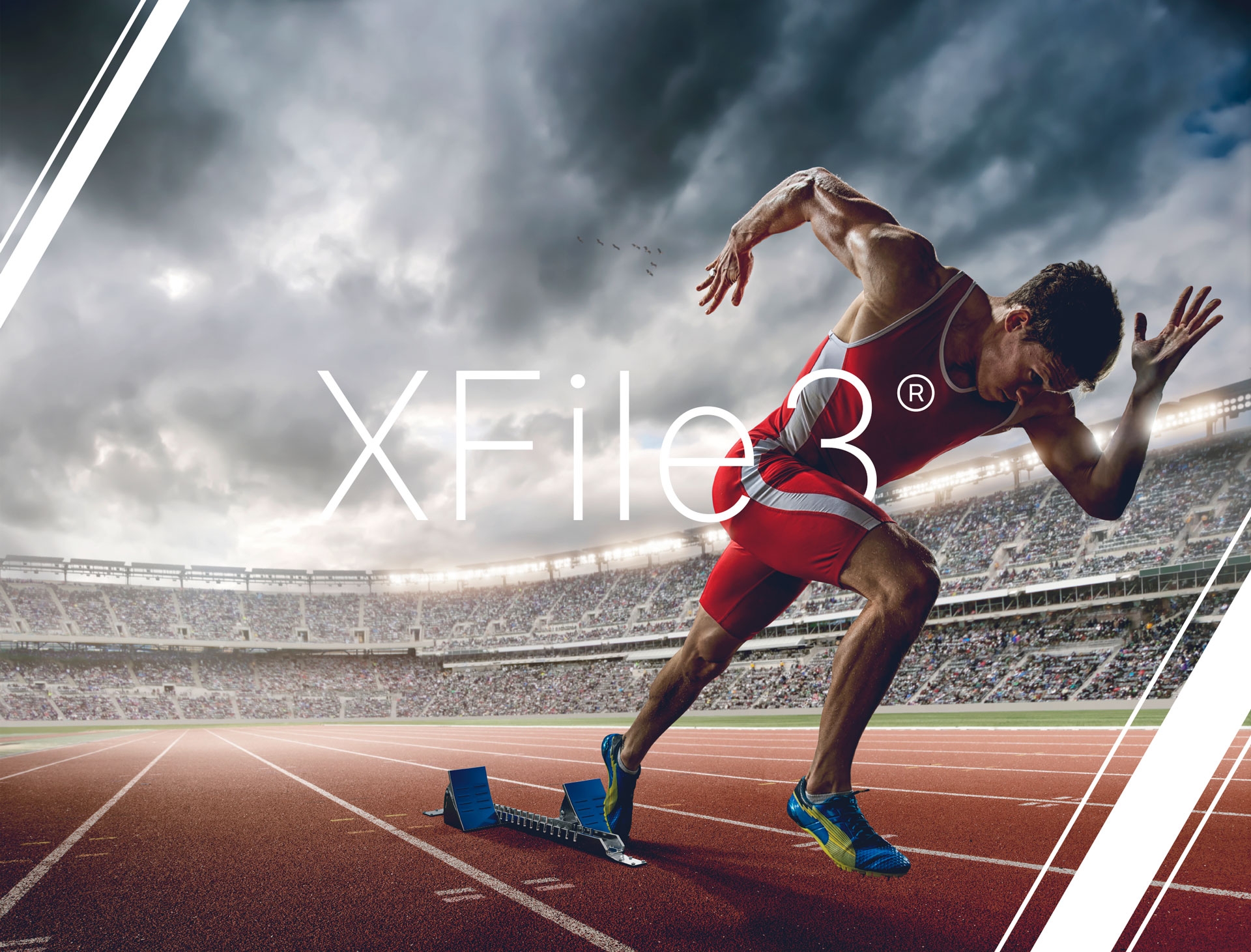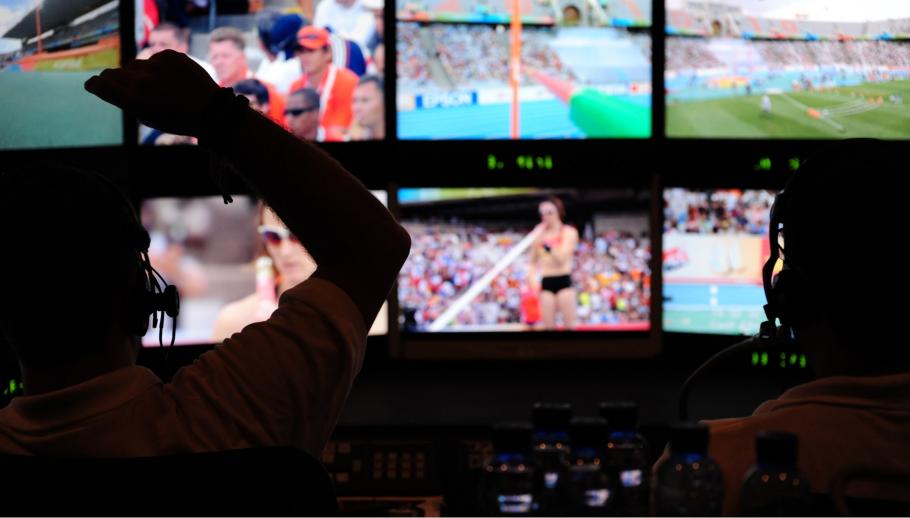 "At EVS we know that XFile has been a great tool in live production environments for years now, as there is always someone walking into the truck that wants to play back clips just seconds later"
Brady Jones - Lead EVS LSM-VIA ambassador
In the last years we have seen the increased need for more tools in XFile. Replay operators or media managers need to be able to not only import last minute content but also to import content coming from other shows. To facilitate this, EVS has been increasing the codec compatibility. This way, EVS solutions can be easily integrated with each other as well as with other 3rd party systems and post-production tools.
What has always been important for EVS is maintaining the clip metadata and the superslomo frames which you want to use for the next show and which you'd like to keep with your archived media.
For Multicamera recording, XFile3 allows real-time streaming of all camera angles from the server to your storage using an intuitive user interface and including crash-record capabilities and time-based scheduling of these streams.
As more and more shows are being produced in HDR and with higher resolutions, conversion from and to various standards and formats has become very important. XFile3 is capable of up-converting the resolution during the restore process, so legacy content can be restored towards 1080p or UHD servers, without the need to define your profile... the system will it do it for you. SDR content can be converted to HDR, and HDR to SDR,  during restore by selecting a 3D LUT profile. You can also use the dynamic HDR conversion method if you don't know which LUT to use.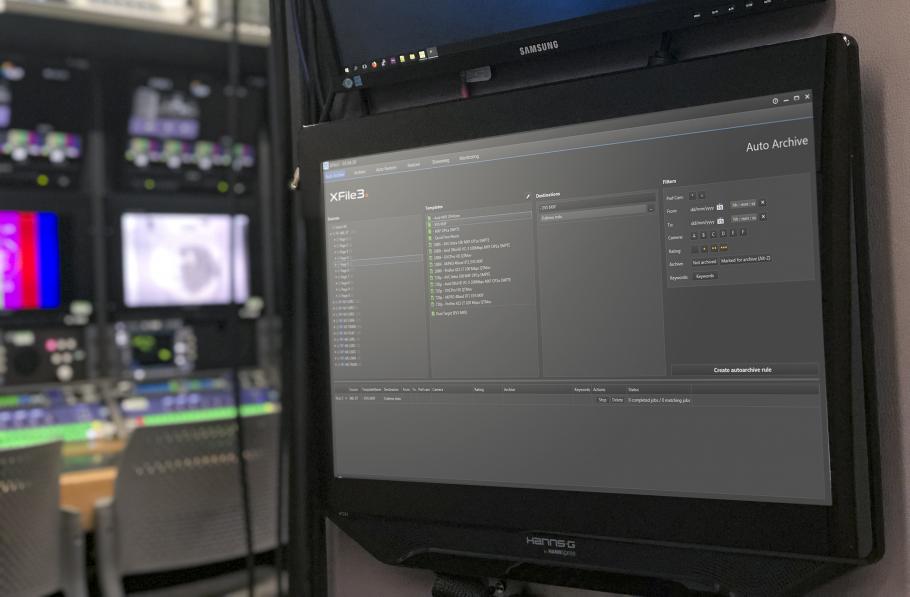 Besides sharing content via hard drives and USB sticks, XFile3 also gives you the possibility to share content through cloud storage. For example, you can push content to AWS S3 storage, so another show can download the content from their XFile3 interface.
Beside the regular connections and drives that can be attached to the XFile hardware, EVS also validated Seagate® LYVE storage which can be rented on demand. This high performance cloud storage service focuses on secure transport of your content. For benchmarks or more information on the offering, reach out to our sales team.
In case you want to use learn more, feel free to watch our XFile3 tutorial videos or to take the advanced course of XFile3 and become a real specialist in file-based workflows for your live production shows.
Get the most out of your EVS equipment
At EVS, we understand how important it is for our customers to gain an edge in the live production environment.  That's why we're empowering operators and technical engineers to become advanced users of our technology – leading to better production values, streamlined workflows and better ROI from your EVS investment.