XT-VIA
Live production server
The next-generation live production server that transforms live action into memorable stories
At the heart of the action
The XT-VIA production server is designed to meet the most demanding live broadcast production requirements, integrating all new formats and protocols from HD to 8K, SDR to HDR, and SDI to IP in a single versatile solution. Built from EVS' live engineering expertise, XT-VIA guarantees an unmatched level of control and precision and offers a boosted capacity of up to six channels of UHD and 16+ channels of HD, making it the most powerful system on the market.
THE FASTEST AND MOST RELIABLE SERVER ON THE MARKET

Consistently output the best quality content for all your productions, whenever and however they're deployed thanks to EVS' signature speed and reliability and loop recording technology.

FULL FLEXIBILITY FOR UHD OR HD OPERATIONS

XT-VIA conveniently supports multiple video formats including UHD-4K, 1080p, and even offers 1080p to UHD-4K upscaling. It also provides over 370 validated I/O configurations to roll out workflows tailored to your specific needs, from the same server.

LIVE HDR PRODUCTION

XT-VIA is already built out for HDR broadcasting. It supports HDR in all resolutions and allows HDR-SDR conversions from its embedded Multiviewer, removing the need for any additional monitoring investment.

ADVANCED CONNECTIVITY

The server provides hybrid SDI/IP connectivity and assures you full IP interoperability with other systems thanks to approved SMPTE 2110, PTP and NMOS standards.

HIGH SPEED MEDIA SHARING NETWORK

XT-VIA allows simultaneous use of both the new XNet-VIA and file-based network, providing a guaranteed bandwidth for playout and content sharing to external devices for all your demanding live workflows.

HIGH QUALITY SUPER MOTION REPLAYS

With the support of the highest number of super motion cameras in the market, ranging from 2x up to 16x, XT-VIA delivers super slow-motion replays of the best quality.
16+ch FHD and HD (720p, 1080i, 1080p)
6ch UHD-4K (2160p) including integrated upscale from 1080p
2ch UHD-8K Supported on special edition (4320p)
6ch Fill/Key (720p, 1080i, 1080p)
UHD-4K: XAVC-Intra, DNxHR
HD/FHD: XAVC-I, AVC-I, DNxHD or ProRes
PROXY : MJPEG or H.264
10G Ethernet SFP+
100G as an option
ST2022-6, ST2022-7, ST2022-8, ST2110 (-10, -20, -21, -30, -40)
NMOS IS-04, IS-05, EMBER+
PTP
1.5G-SDI, 3G-SDI and 12G-SDI selectable in software settings
192 uncompressed audio tracks
Embedded, AES and MADI support
Internal storage of 18TB
Expandable to 54TB
Recording capacity of up to 130 hours of UHD-4K
Hot swap storage
EVS XNet (3G-SDTI)
EVS XNet-VIA (10Gbps Ethernet-IP)
Dual 10G media sharing network
Redundant 1G management LAN ports
2 external inputs
4 individual outputs
Tally support
16 different layouts
Conversion from HDR to SDR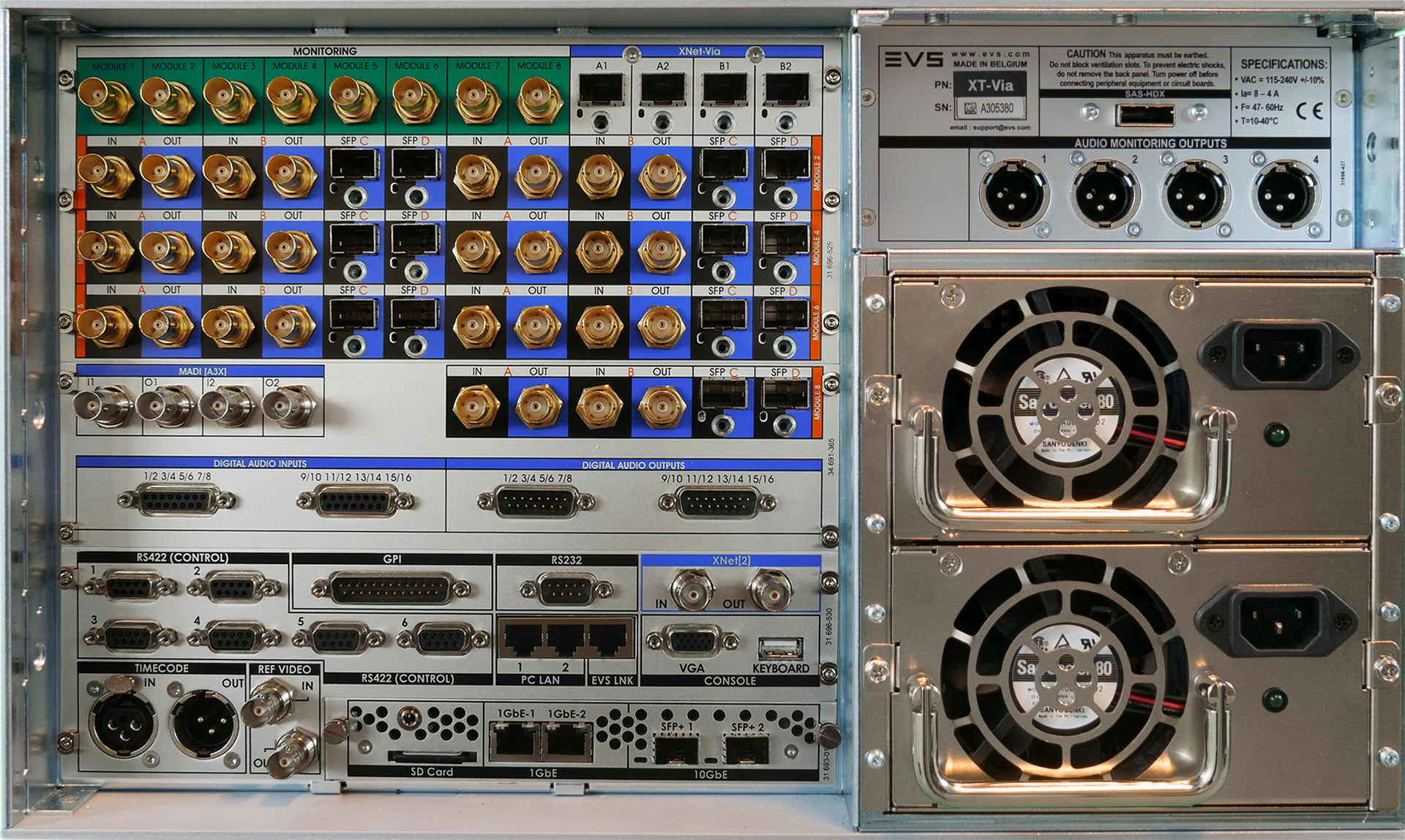 XT-VIA backpanel view - IP setup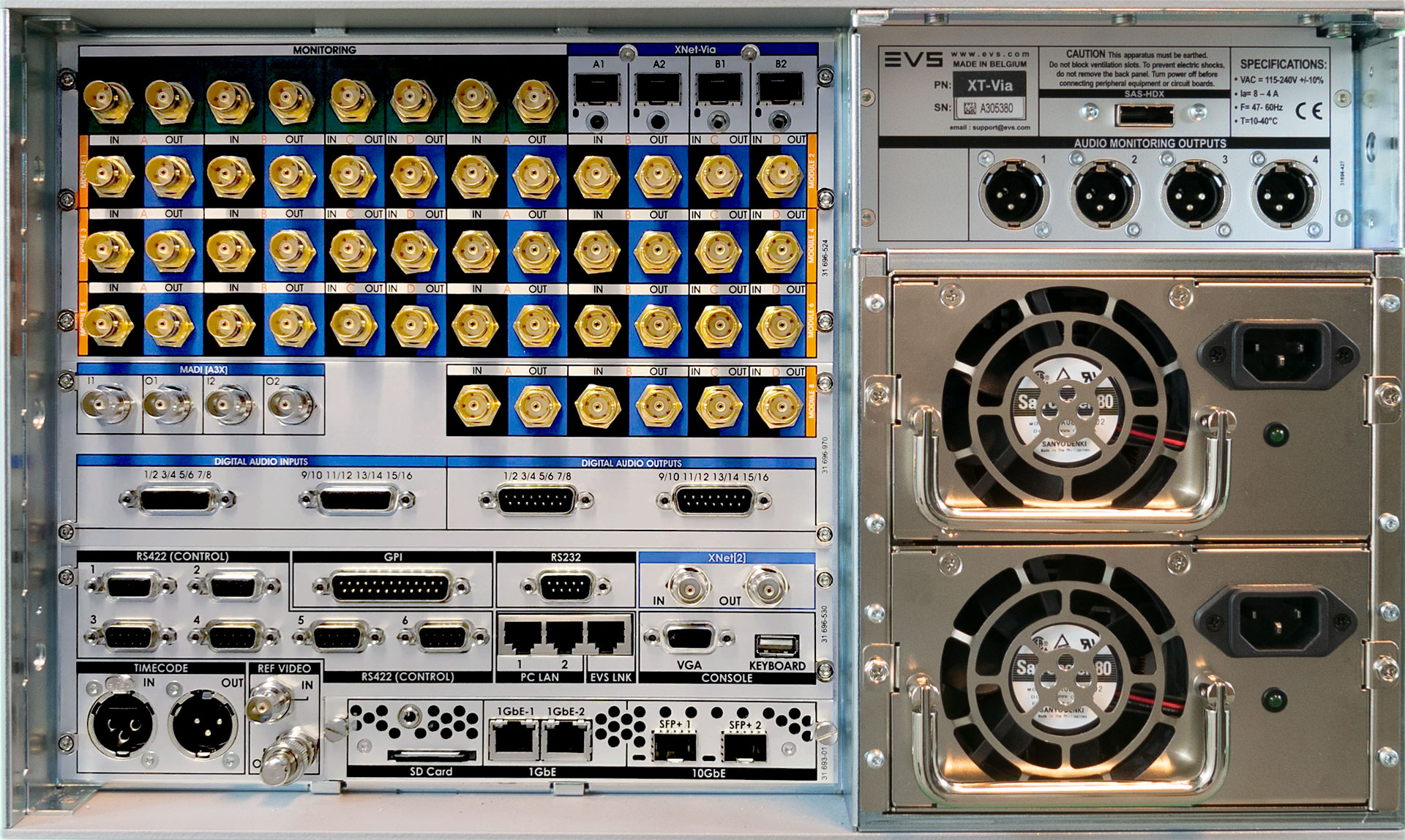 XT-VIA backpanel view - SDI setup
Download our latest datasheet for more information
Application note: Camera formats & frame rates
Read the latest application note and learn more about operations for all camera formats and frame rates as of Multicam 15.1
Get the most out of your EVS equipment
At EVS, we understand how important it is for our customers to gain an edge in the live production environment.  That's why we're empowering operators and technical engineers to become advanced users of our technology – leading to better production values, streamlined workflows and better ROI from your EVS investment.