Synapse
Modular real time video and audio processing
Process, distribute, convert and analyze any type of uncompressed video and audio signals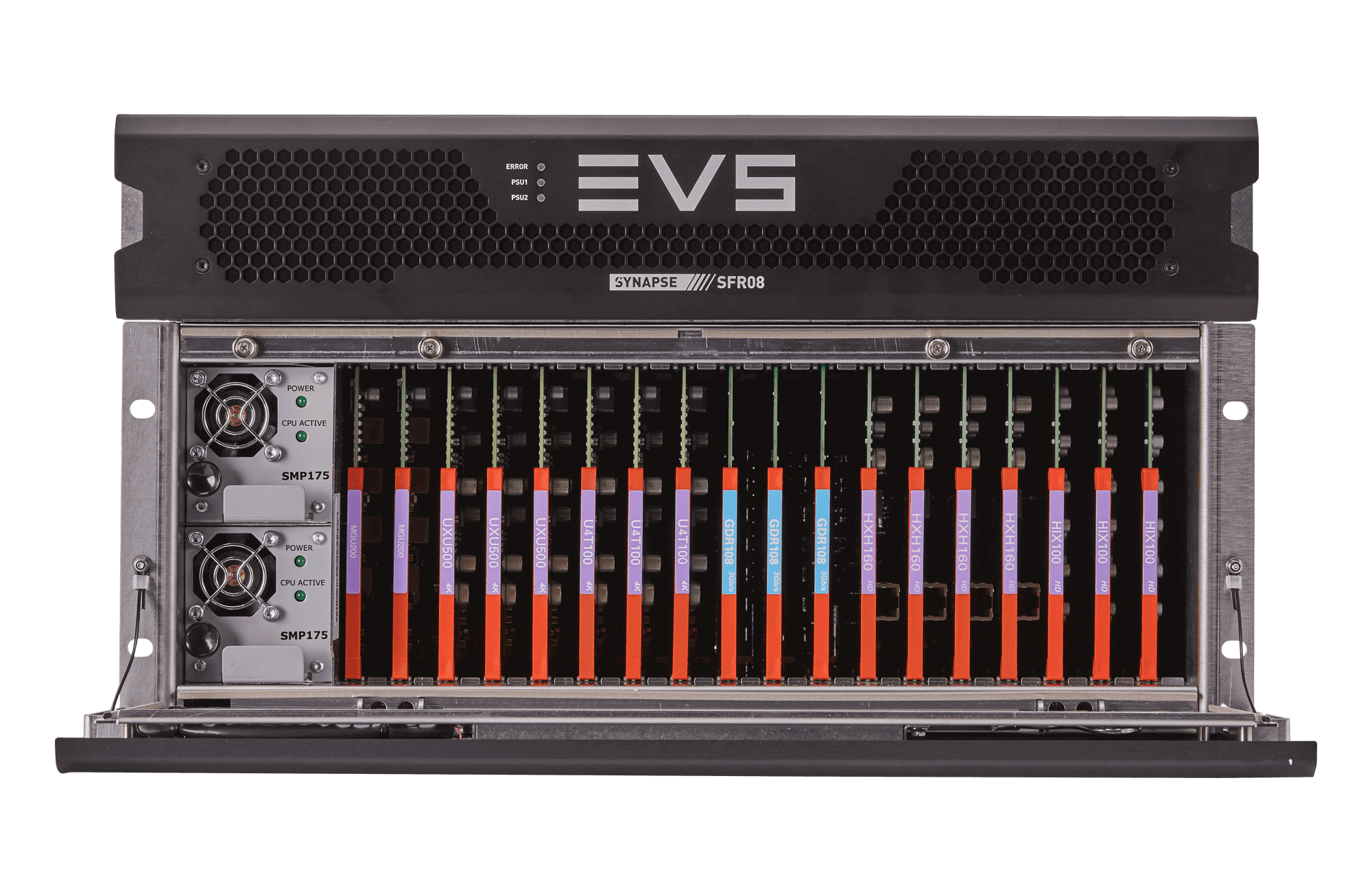 Modular interfacing and conversion
Synapse is the industry's most powerful and comprehensive audio and video processing system. Synapse modules make it possible to process, distribute, convert or analyse any type of uncompressed video and audio signal. Some examples: frame synchronization, video up & down conversion, audio (de)embedding, Dolby processing, integrity checking, logo insertion, multiviewing, etc.
Flexible

Using the right combination of cards makes it possible to create any kind of transmission chain you could possibly want. This flexibility makes any type of processing job possible. 

Massive processing power

Not limited by a single function but integrating a wide variety of functions combined on a single processing board, resulting in lower footprint in power consumption and space. 

Easy deployment, low wiring

The frame has an internal add-on bus which can transport audio from one card to the other internally without any external wiring. Less wiring means easy deployment.

Easy to use and intuitive interface

Configuration and control of Synapse is done via Cortex (FOC) or Cerebrum in an intuitive and easy to use graphical user interface. 

Lower cost of ownership

Synapse is based on a single form factor. This will protect your investment and makes swapping cards between frames possible when systems change, or the infrastructure is dynamic like in OB-vans.
Components and modules
Synapse has a vast portfolio of processing modules. There are ±200 different cards available, each with it's own functionality and application. The modules listed here are currently the most popular frames and processing cards.
SFR18
Robust design
Central genlock inputs for all cards
Ethernet connection for remote control and monitoring
Easy, hot swappable fans
Auto input range power supply
Front control to control of all card parameters
Internal Synapse ADD-ON daisy chain bus
Separate rack controller which doesn't take up a slot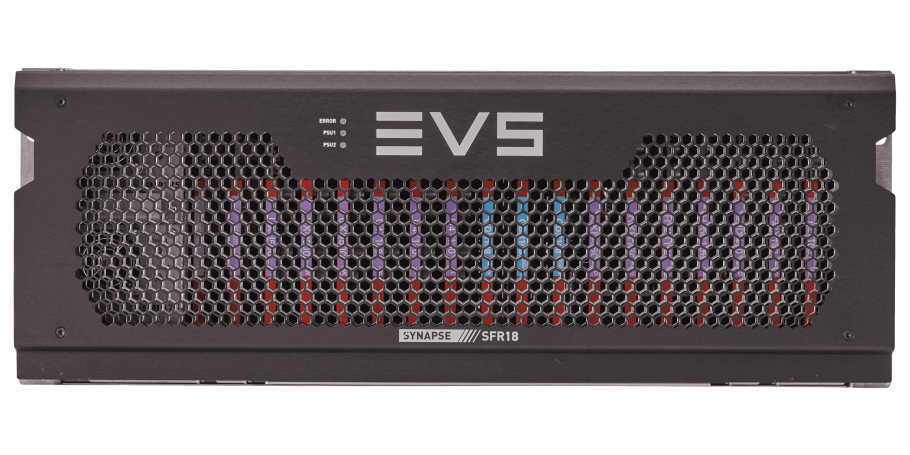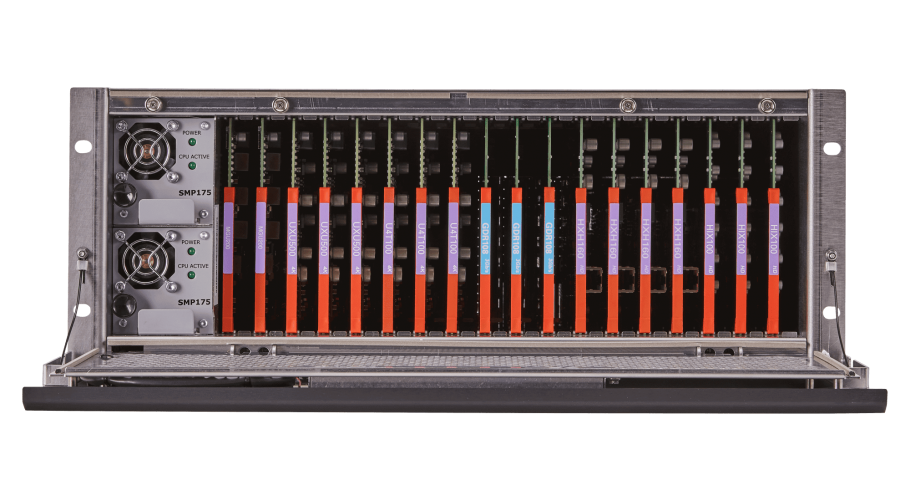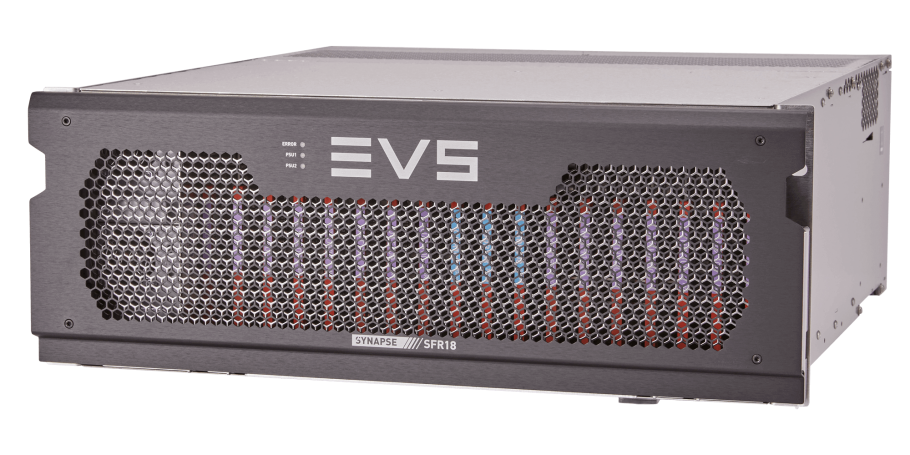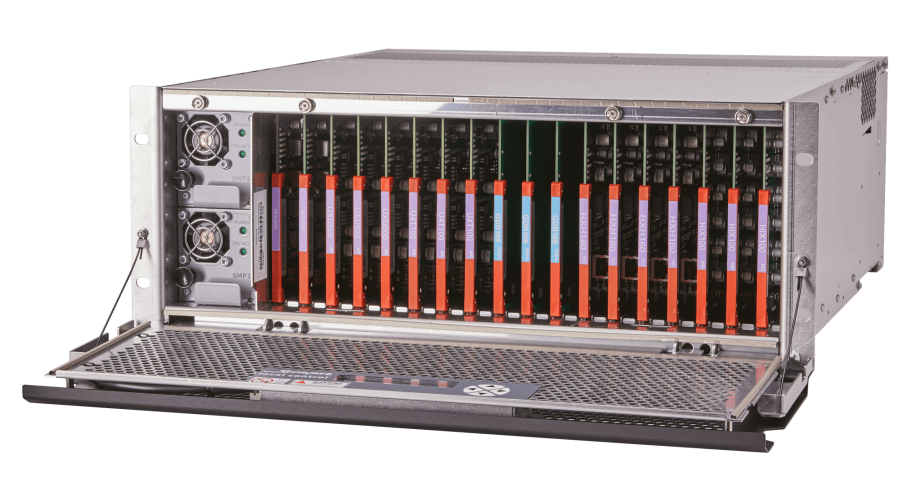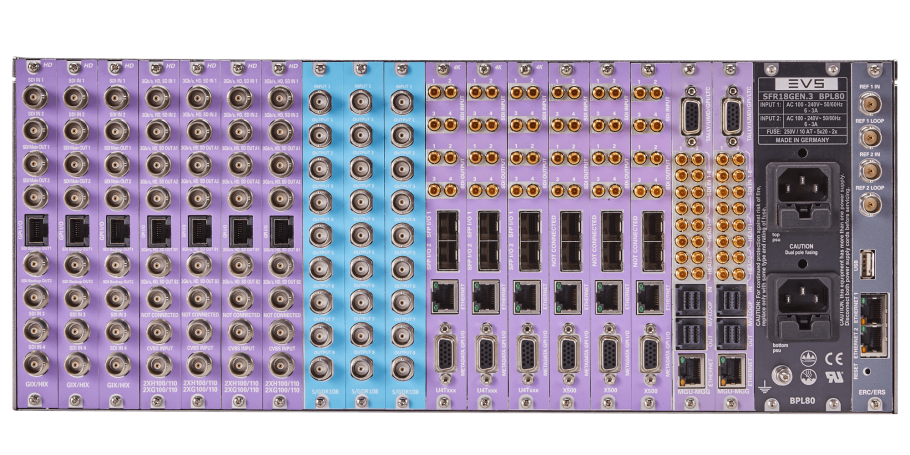 SDI integrity checking probe
4 free selectable inputs per probe
Clean back-up switching through built-in frame synchronizers
Clean audio switch-over through V-fade
Video content freeze and black detection
WST and OP47 presence detection
Audio silence and clip detection
Dolby presence detection
Test pattern generator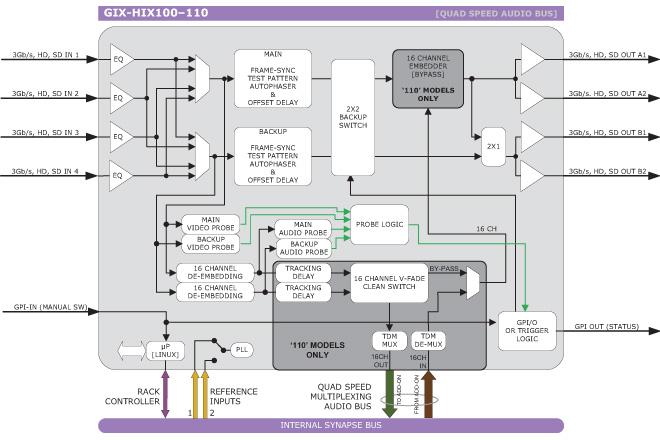 Modular Multiviewer
8 SDI inputs to two individual heads on 8 SDI outputs
Each input can be displayed on each head with an individual scale and position
Very low latency (20ms for 50Hz)
32 free assignable audio bars per head
Three assignable UMD regions in or under each picture
2 Digital and/or analog clocks per head, assigned to VITC, ATC, LTC or NTP
4 TSL or ACP controlled Tallies per picture
Cascades to other multiviewer building blocks to increase the amount of on screen pictures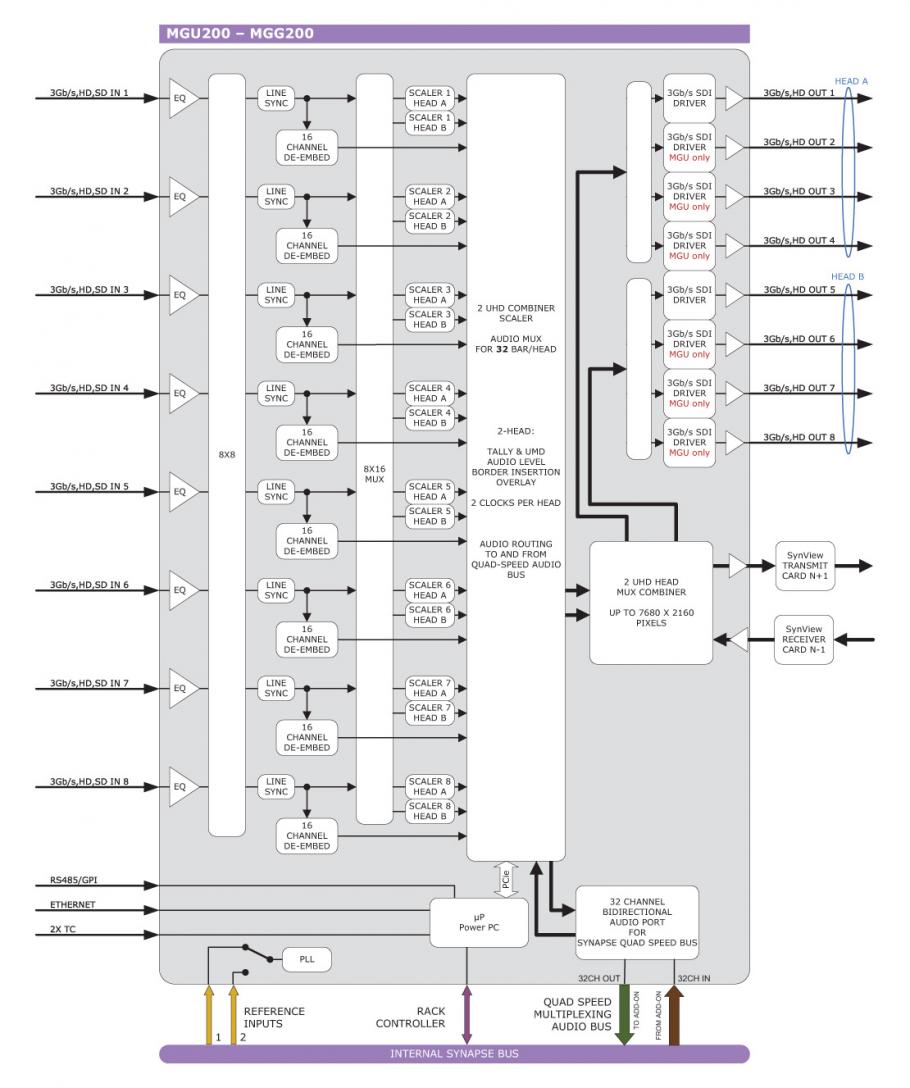 UHD up/down/cross converter
Up/down/cross conversion using Motion Optimized Quality De-interlacing
Up and down conversion to and from UHD 4-wire
Video proc-amp and color corrector
Frame sync with auto-phaser
Aspect Ratio Converter
16 free programmable preset banks
Multiple GPI inputs and outputs
Embedded domain 64x64 audio shuffling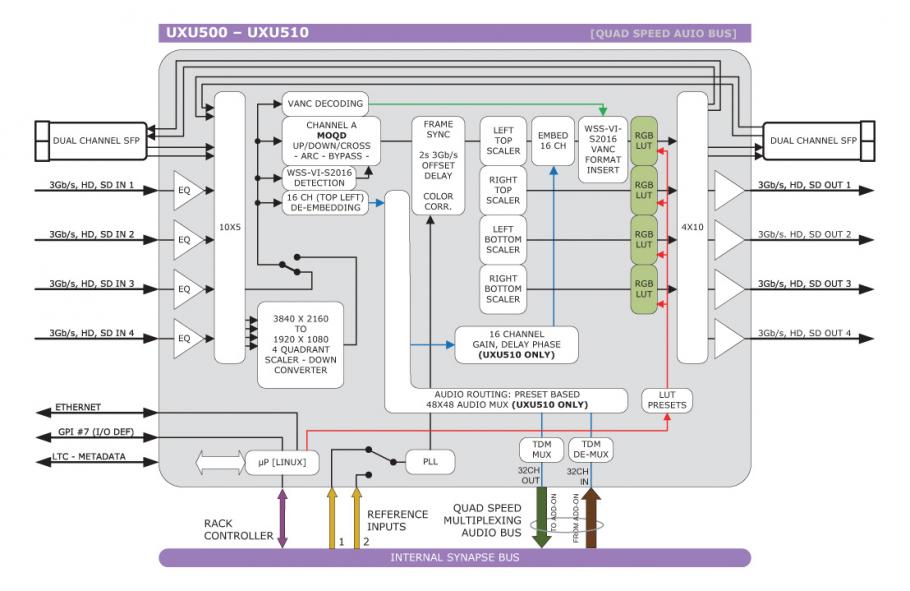 SDI audio de-embedder
Up to 8 AES/EBU outputs (available with 110 Ohm and75 Ohm connectors)
8 extra AES/EBU inputs through the Synapse bus
2x SDI + embedded audio outputs
Pre and post delay de-embedding
Audio gain, phase and offset delay up to 5 seconds
Audio Silence and peak detection
GPIs to control presets
UHD & HDR toolbox
Fully featured 4K (3840x2160) Ultra HD 4 wire toolbox
LUT based color space and dynamic range conversion
16 LUT presets for standard LUT tables (.cube, .lut or .txt file extensions)
1D LUT 10 bits 1024 RGB values (1024x3 rows)
3D LUT 10 bits 35937 RGB values (33x33x33)
Side by side split screen mode with slider for evaluation of LUT values
LUT bypass mode
Compatible with BT709 and BT2020 I/O
Includes a Dolby E encoder and decoder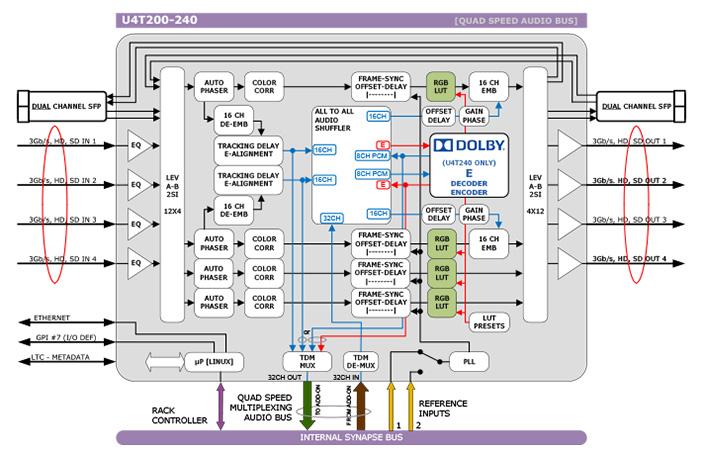 UHD distribution amplifier
Quad channel DA with 16 outputs
Conversion between SMPTE standards
GPI controlled input swapping and status monitoring
Bypass function of the reclocker for non-standard frequencies
Flexible choice of I/O standards, like fiber or HDMI I/O, through the use of SFP modules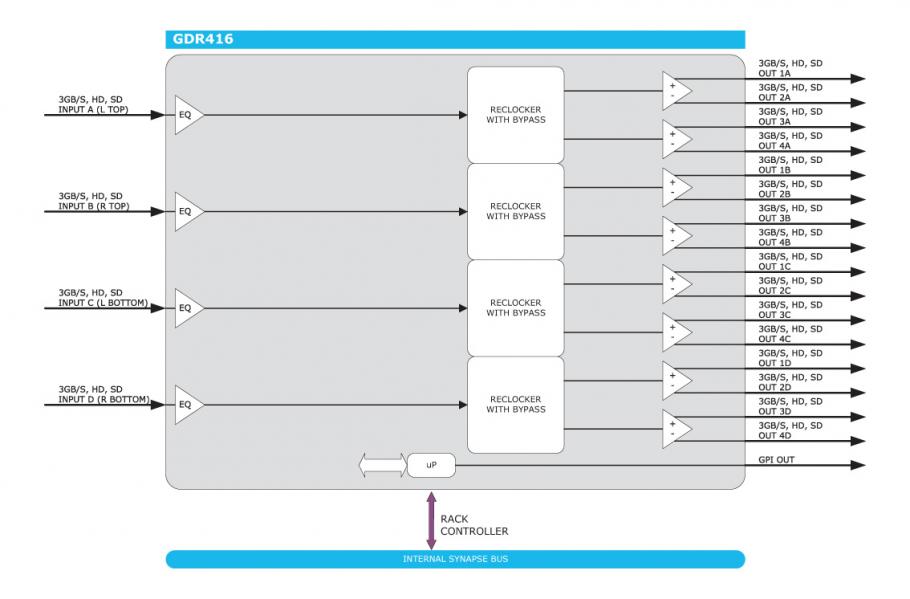 Live production toolbox
Low-latency up/down/cross conversion in the same frame-rate
Dual frame-synchronization
Dual input backup functionality with integrity checking
VBI insertion
Cross input audio (de-)embedding and shuffling, also though the Synapse audio bus
4 GPI inputs for ARC and Shuffle triggers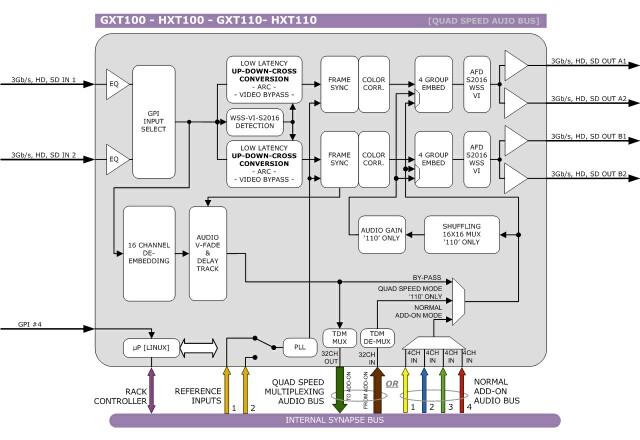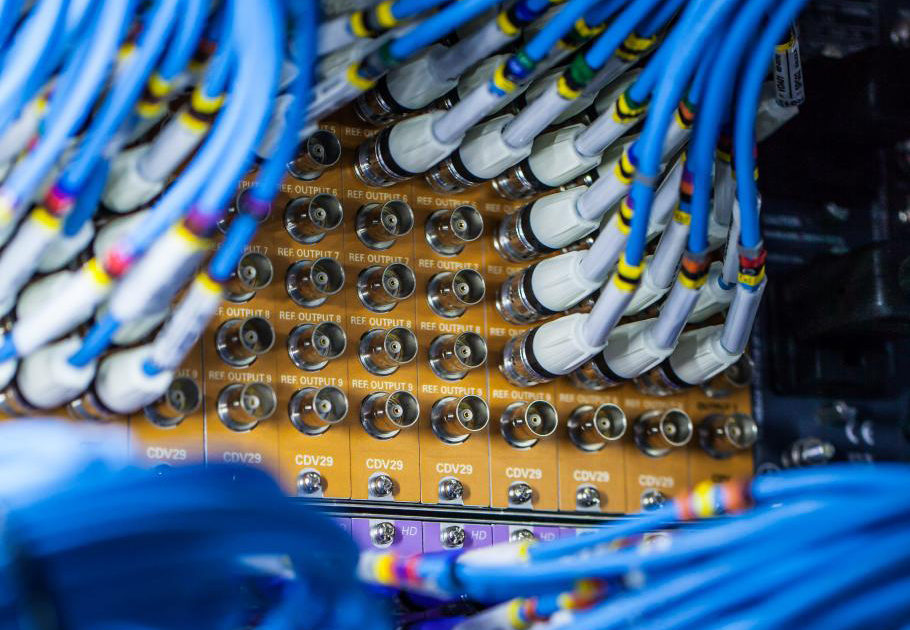 Often called "glue" or "infrastructure equipment", Synapse modules make it possible to process, distribute, convert and analyze any type of uncompressed video and audio signals.