EVS launches partnership with Haivision to power remote replay operations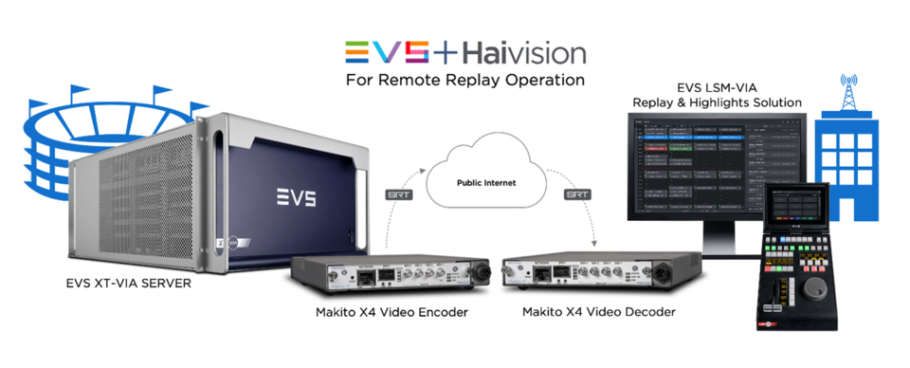 Low-latency video streaming and networking solutions from Haivision allow EVS replay operators to seamlessly work from anywhere
EVS, the leader in live video technology for broadcast and new media productions, and Haivision, a leading global provider of mission-critical, real-time video streaming and networking solutions, have announced a partnership to bring broadcasters a combined, EVS certified solution that enables remote workflows for replay system operators for live sports broadcasting.
Today's broadcasters are looking to enable de-centralized approaches to covering live events. To achieve this, they are building workflows that promote efficiency and flexibility so team members can work anywhere – on-site at event venues or from remote locations including home offices or broadcast centers. As a result, EVS is using Haivision's Makito X Series of real-time video encoders and decoders to generate low latency, encoded IP video streams from its XT-VIA live productions servers in venues to remote LSM-VIA controllers over any managed network or the public internet. This new integration essentially enables the extension of video monitors across long distances, even when working at resolutions up to 4K/UHD.
"When the replay operator cannot be on-site, the Haivision solution completes the EVS replay environment by providing the best interaction possible for remote operators, even over widely-available and cost-effective public internet connections."
This new certified integration is part of EVS' LiveCeption Signature solution and leverages the SRT (Secure Reliable Transport) network protocol, to ensure streaming of high-quality, full frame rate video to EVS remote operators with ultra-low latency. Consequently, replay operators can watch their video assets while operating with the LSM-VIA as if they are working in the same location as the XT-VIA servers. This assures fluidity in remote system operation even when working across a distant network connection.
"Haivision is thrilled to satisfy the demands of one of the industry's most demanding user – the EVS replay operator – providing them with a flexible solution that lets them do what they do best, from anywhere."
Haivision's Makito X video streaming and networking solutions and EVS' LiveCeption Signature solution are available through their respective sales channels globally.