EVS at NAB 2023
Booth #N2147
Las Vegas Convention Center
Introducing an enhanced ecosystem for premium live productions
EVS, the leader in live video technology will showcase its LiveCeption, MediaInfra, and MediaCeption solutions on booth #N2147, with several innovative features and products making their debut at the show.
Dedicated areas on the booth will serve to demonstrate EVS' latest advancements in the field of live production, replays and highlights, media infrastructure, and asset management for premium live productions. Additionally, this year's booth will feature a tech pavilion, providing visitors with a more personalized setting to discuss current tech challenges with EVS experts. The aim is to foster candid conversations about critical industry topics such as the shift to IP, sustainability for future growth, cybersecurity and zero trust policy, as well as cloud, edge, and hybrid workflows.
"At EVS, we are dedicated to ensuring our customers can remain focused on what matters the most - creating content that captivates their audiences and makes them want to come back for more. The solutions we'll show at this year's NAB are designed with this goal in mind. Visitors can expect to discover new ways for simplifying operations in an increasingly complex technological environment and for seamlessly switching from SDI to IP workflows" said Nicolas Bourdon, CMO at EVS. 
"Building on our decades of industry experience, we are proud to offer our customers a comprehensive ecosystem for premium live productions - an ecosystem which gives them access to the best solutions on the market through tight integrations between EVS products and services, as well as third-party solutions."
LiveCeption
Advanced storytelling tools and services fostering speed and creativity
At NAB 2023, EVS will launch the latest version of its AI-based super slow-motion service, XtraMotion 2.0. With this new version, production teams have the possibility to choose between cloud or on-premises processing, the latter reducing turnaround time to about five seconds for real-time coverage, regardless of the clip's size. This launch is an example of EVS' commitment to a Balanced Computing approach that optimizes computing workload distribution between on-premises, data centers, and public clouds. 
EVS will also unveil LSM-VIA MultiReview, a software browsing interface integrated into the LSM-VIA replay system, which allows the display of 16 synchronous camera angles from the EVS XNet-VIA media sharing network in a single, customizable layout. This enables operators to quickly identify and select their preferred camera angles, create clips, and export them for immediate use in production, streamlining workflows and eliminating the need for separate reviewing systems. Moreover, the XNet-VIA media-sharing network now comes with reduced latency from five seconds to half a second for distant servers, meaning operators can seamlessly access and use content from any server on the network with no visible delay in the content being used.  
MediaInfra
Smooth execution of streams in any environment
At the EVS booth, visitors will be able to see how the company's MediaInfra solutions provide advanced control, monitoring, conversion, and real-time processing for SDI, IP, and hybrid broadcast infrastructures. 
One notable update to our MediaInfra solutions is the addition of Neuron VIEW, a flexible, high-quality scaling and low latency multiviewer to the Neuron Network Attached Processor (NAP). Neuron already boasts the most powerful high-density real-time processing capabilities in the industry, and with different software variations hosted on the same platform, it is highly flexible, energy-efficient, and it offers better ROI. The newly added Neuron VIEW complements this wide range of existing functionalities, with the Neuron BRIDGE version designed to bridge SDI to and from IP, Neuron CONVERT for miscellaneous audio and video processing, such as format and HDR conversion, Neuron PROTECT for firewall and failover switch applications, Neuron COMPRESS for high-quality low-latency compression of HD and UHD signals, and Neuron SHUFFLE, for swapping and shuffling thousands of individual audio channels.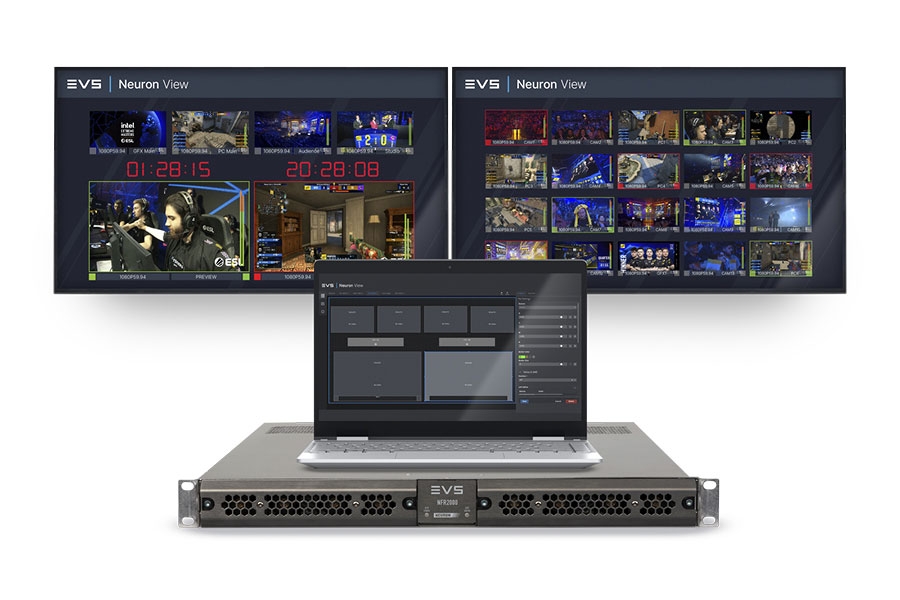 Neuron VIEW is fully customizable via its web interface and can display all the functionalities needed in demanding live production environments, including multiple tallies and static or dynamic UMD's per picture, PTP or countdown clocks and various audiobars. It is also tightly integrated with the Cerebrum broadcast control and monitoring system, not only with respect to the configuration of the multiviewer layout, but also for enabling the routing of multiviewer inputs, and controlling all tallies and UMD's.
Other recent enhancements of Cerebrum include improved flexibility of control through various interfaces in combination with an upgraded user experience, expanded SDN control which simplifies the control and visualization of IP infrastructures, and additional protocol support for increased integration with third-party solutions. 
Finally, the MediaInfra Strada IP/SDI routing solution has been further enhanced to offer various size options to better meet customer requirements. EVS customers FOX Sports and TVA Canada will participate in the panel discussion 'Agile Media Routing Made Easy' during a Breakfast Meeting hosted by EVS on Monday 17 April from 7:30 to 9:00 am. The panel will explain how Fox Sports' Jewel Events mobile system and TVA's 24/7 broadcast facility are leveraging the combination of Arista and EVS to produce more compelling stories with an agile infrastructure that is familiar to their engineering and operational staff. Sign up for this event here.
MediaCeption
Swift content turnaround with high-quality results
With EVS' MediaCeption solutions, sports, news and generalist broadcast centers can manage all of their media in a single platform, including any number of live feeds, file imports and ENG material. MediaCeption provides an intuitive interface that allows users to make the best use of their content and easily distribute to both traditional broadcast feeds as well as digital publishing.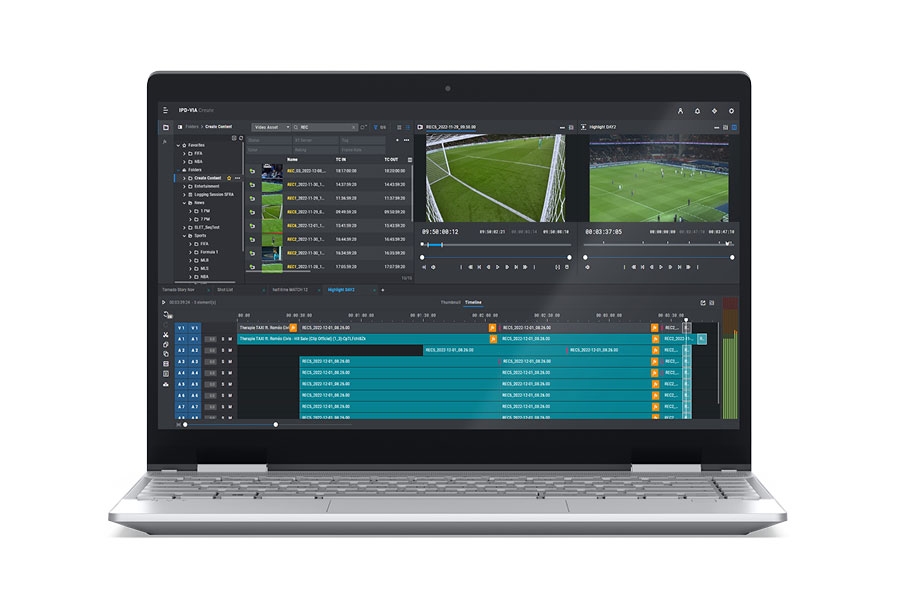 Key highlights to this offering include the presentation of IPD-VIA Create, a web-based video editing application that is fully integrated within the MediaCeption Signature end-to-end live PAM solution. Introduced in December 2022, the new app is designed to allow users to perform complex editing operations directly from within the EVS VIA ecosystem to match the speed of live video production.
Also showcased will be the XS-NEO server, a fully software defined and cloud-ready ingest platform capable of delivering more of the framerates and codecs that customers have been requesting. With native 23.98p and Long-GOP codec support, XS-NEO enables users to rely on a trusted and reliable partner for all their ingest requirements, including SRT & NDI ingest.
The MediaCeption area on the booth will highlight EVS' commitment to building seamless workflows and custom solutions that cater to customers' requirements by ensuring interoperability with other vendor solutions and EVS systems. EVS has prioritized this aspect by offering over 20 certified solution partners to empower customers with the best-of-breed technology. 
"Visitors can expect to discover new ways for simplifying operations in an increasingly complex technological environment and for seamlessly switching from SDI to IP workflows."
The NAB Show will take place from April 16-19, 2023, at the Las Vegas Convention Center and EVS will showcase its solutions at booth
#N2147
Register here for your FREE Exhibits Pass using code LV2745
Sébastien Verlaine

Head of Marketing & Communications s.verlaine@evs.com