EVS reports first half 2022 results
24 August 2022
EVS reports first half 2022 results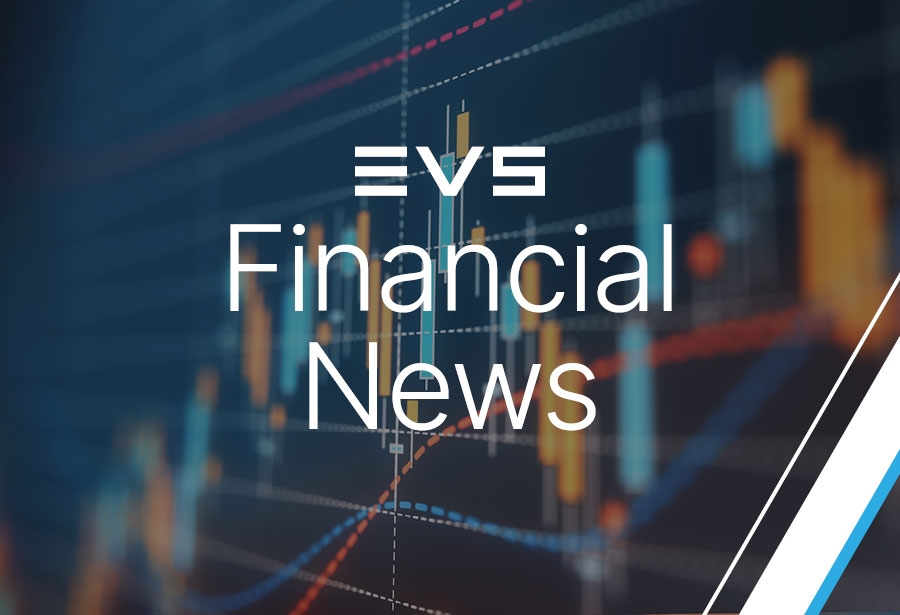 Growth mode continues resulting in an upgraded guidance
Version française ci-dessous
The results of the 1st half of 2022 are fully supporting the growth trajectory that EVS is on. The fundamentals are all strong: a record-high order intake, a historical revenue, accompanied by a strong operating profit.
For the sake of clarity, this press release does not include the 10-year contract worth more than USD 50 million, that was signed in August 2022 and announced to the market on August 19th, 2022.
H1 financial performance
Record order intake of EUR 88.7 million
Revenue in the first six months of the year, amounts to EUR 67,7 million, + 9% YoY. 

BER revenue is of EUR 5,7 million, growing EUR 1,2 million in comparison to 1H21. 
Revenue excluding BER is at EUR 62.0 million growing EUR 4,7 million compared to the same period last year.

Gross margin is growing with 3.3Mio€ compared to 1H21, though the overall gross margin percentage is eroding with 1,2Pts. This erosion is primarily the consequence of investments in additional resources to ensure quality support for our growing topline. 
Net profit amounts to EUR 15,5 million, leading to a diluted earnings per share of 1,15 euro (equal to 1H21 results)
---
La croissance se poursuit, résultant dans une amélioration de la guidance
Les résultats du 1er semestre 2022 soutiennent pleinement la trajectoire de croissance d'EVS. Les fondamentaux sont tous solides : une prise de commandes record, un chiffre d'affaires historique, accompagné d'un résultat opérationnel solide.
Par souci de clarté, ce communiqué de presse n'inclut pas le contrat de 10 ans d'une valeur de plus de 50 millions de dollars, qui a été signé en août 2022 et annoncé au marché le 19 août 2022.
Performance financière du 1er semestre 2022
Prise de commandes record de 88,7 millions d'euros
Le chiffre d'affaires des six premiers mois de l'année s'élève à 67,7 millions d'euros, + 9% en comparaison avec la même période en 2021.

Le chiffre d'affaires de BER est de 5,7 millions d'euros, en croissance de 1,2 million d'euros par rapport au 1S21.
Le chiffre d'affaires hors BER s'élève à 62,0 millions d'euros, en croissance de 4,7 millions d'euros par rapport à la même période l'an dernier.

La marge brute augmente de 3,3 millions d'euros par rapport au 1S21, bien que le pourcentage de marge brute globale s'érode de 1,2Pts. Cette érosion est principalement la conséquence d'investissements des ressources supplémentaires pour assurer un soutien de qualité à notre chiffre d'affaires en croissance.
Le bénéfice net s'élève à 15,5 millions d'euros, conduisant à un bénéfice dilué par action de EUR 1,15 (égal aux résultats du 1S21)
---
For more information, please contact:
Veerle De Wit, CFO*
EVS Broadcast Equipment S.A., Liege Science Park, 13 rue du Bois Saint-Jean, B-4102 Seraing, Belgium
Tel: +32 4 361 70 04.  E-Mail: corpcom@evs.com; www.evs.com
* representing a SRL
Forward Looking Statements
This press release contains forward-looking statements with respect to the business, financial condition, and results of operations of EVS and its affiliates. These statements are based on the current expectations or beliefs 'f EVS's management and are subject to a number of risks and uncertainties that could cause actual results or performance of the Company to differ materially from those contemplated in such forward-looking statements. These risks and uncertainties relate to changes in technology and market requirements, the company's concentration on one industry, decline in demand for the company's products and those of its affiliates, inability to timely develop and introduce new technologies, products and applications, and loss of market share and pressure on pricing resulting from competition which could cause the actual results or performance of the company to differ materially from those contemplated in such forward-looking statements. EVS undertakes no obligation to publicly release any revisions to these forward-looking statements to reflect events or circumstances after the date hereof or to reflect the occurrence of unanticipated events.
About EVS
EVS is globally recognized as the leader in live video technology for broadcast and new media productions. Our passion and purpose are to help our clients craft immersive stories that trigger the best return on emotion. Through a wide range of products and solutions, we deliver the most gripping live sports images, buzzing entertainment shows and breaking news content to billions of viewers every day – and in real-time.
The company is headquartered in Belgium with offices in Europe, the Middle East, Asia and North America, and provides sales and technical support to more than 100 countries. EVS is a public company traded on Euronext Brussels: EVS, ISIN: BE0003820371.
For more information, please visit evs.com