EVS is rewarded twice at the Wallonia International Business Awards
09 September 2022
EVS is rewarded twice at the Wallonia International Business Awards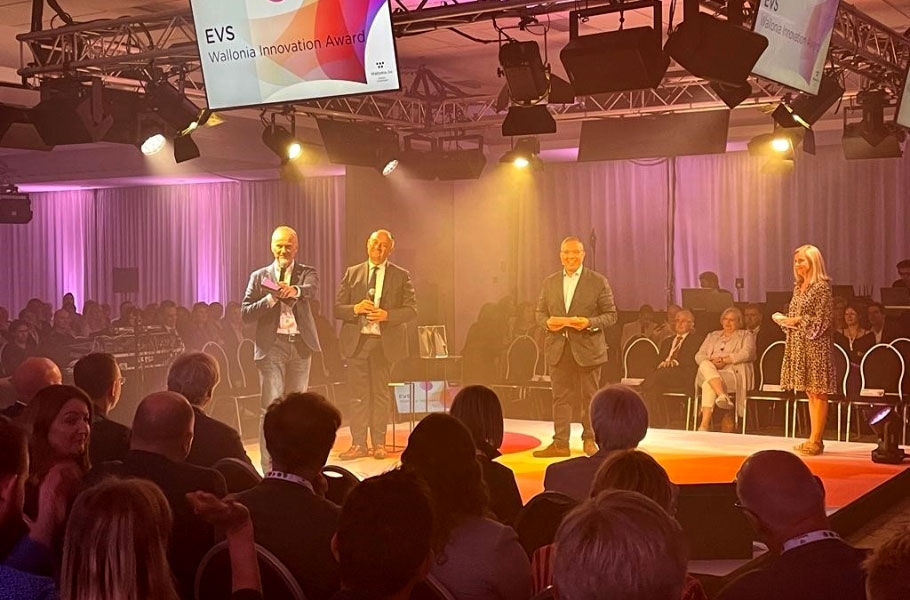 EVS received the Innovation and the People Choice award during the ceremony in La Hulpe, Belgium, on September 8.
EVS is among the main winners of the Wallonia International Business Awards that took place on September 8 at La Hulpe, in Belgium. Taking over from the former 'Wallonia Export Grand Prix', the event, organized by AWEX (Wallonia Export-Investment Agency) honors the Walloon companies' success on the international scene and foreign investors in Wallonia. 
EVS' CEO Serge Van Herck took to the stage to receive the prestigious Innovation award on behalf of the company, and then once again for the People Choice award. The judging team recognized EVS' strategic innovative practices that have consistently enabled strong business growth since its foundation in 1994 and which contribute to helping the Wallonia region thrive on an international level. The Liège-based company is today widely recognized as the leader in live video production technology, providing solutions for major broadcasters and media companies around the world. 
Innovation has always played an important role in EVS' growth.  The company continues to help its customers adapt to new trends and changes in the industry, by developing new products and solutions for transitioning to IP, leveraging the cloud to increase production flexibility, as well as AI to enhance live storytelling and reduce their carbon footprint. 
Serge Van Herck commented: "It is a great honor for EVS to be rewarded for our excellence in innovation. The key to our success is investing in new talent. Out of our 600 team members, about 300 of them are working in R&D and Innovation and the strong EVS brand means we are never short of talent. I'd like to thank all EVS team members for their passion and dedication, and the AWEX for honoring us with this recognition. This underscores our commitment to continue to seed innovative ideas and to shape the future of the broadcast and new media industry."