How the New Jersey Devils use EVS solutions to warm up ice hockey fans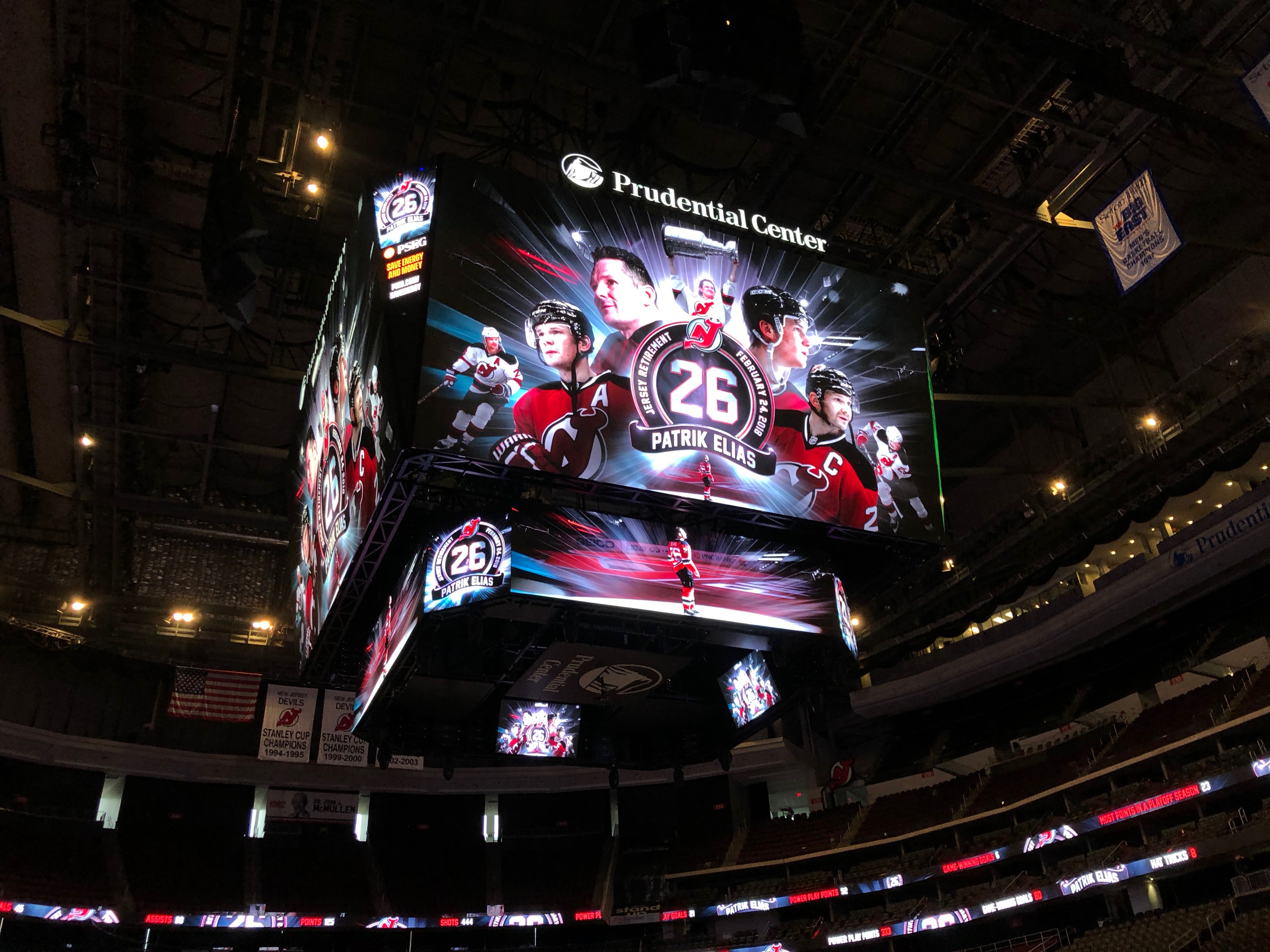 Customer profile
The New Jersey Devils ice hockey team is a three-time Stanley Cup winner that plays in the Metropolitan Division of the Eastern Conference of the National Hockey League (NHL). Home ice is Newark's Prudential Center, a multi-purpose indoor arena that opened in 2007. As well as the 41 NHL regular season games it hosts each season, Prudential Center – or 'The Rock,' as it's affectionately known – is also home to the Seton Hall Pirates NCAA Division I basketball team. Additionally, the #4 ranked U.S. arena hosts more than 175 diverse music and cultural events every year.
The challenge
One of the key jobs for Prudential Center's game presentation and event production team is to engage the Devils' fanbase from the minute they step inside the 16,514-seat arena. The team does this by delivering video content to all the displays inside the venue, the center-piece of which is the Trans-Lux video scoreboard, which was installed ahead of the 2017/2018 NHL season. Weighing in at 88,401 pounds and measuring 9,584.9 square feet, it's the biggest in-arena, center-hung scoreboard in the world. The displays on the scoreboard, which comprise of a record breaking 29m pixels, play out video content to fans before, during and after all the Devils' home games as well as other events in the arena.
To create and distribute this video content, the production team has extensive technical facilities and hopes to supplement this with new technology to provide the fastest, most effective workflow for its gameday shows.
The solution
The production workflow within Prudential Center includes a range of EVS technologies, such as a 12-channel XT3 server, two LSM remote control panels with LSM Connect, IPDirector and IPWeb. At the heart of the workflow is the DYVI switcher, which replaced an existing legacy switcher system. The EVS workflow allows Prudential Center's event production team to create more dynamic and customized content, faster than ever before.
The XT3 live production server is configured to record eight feeds – three in-house cameras and five live feeds from MSG Networks, producers of the Devils' home game broadcast feeds – and playout up to four outputs. The LSM panels are used to create replays and highlights from the ingested feeds, while IPDirector manages the content and IPWeb gives external stakeholders direct access to content available in the IPDirector database using a simple web browser. The DYVI switcher is used to create unique in game looks and cut together the in-venue shows consisting of replays, player and team statistics and in arena favorites like the dance or kiss cam. With the DYVI custom multiviewer, layouts can be created, modified live and called up with macros, giving the production team more flexibility.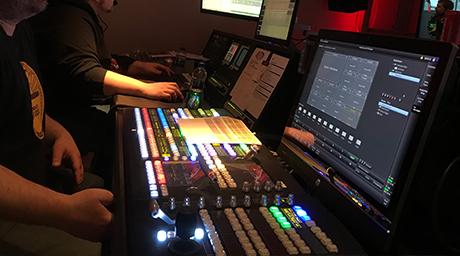 With graphic elements being a key component of in-game fan engagement, the presentation team's creation process needs to be as straightforward as possible. Previous workflows required a multi-step process where operators had to use separate systems to create and load show graphics, before the in-venue director used the switcher to call them up for delivery to the screens.
DYVI has simplified this process significantly with integrations such as Click Effects by ChyronHego and Ross XPression as part of EVS' Unified Stadium offering. With DYVI, the production team can reduce the process to a single-step in which one operator can easily load graphics on the XPression system and create signage content with Click Effects Blaze and fire them off simultaneously with a press of a button.
Both the Click Effects Blaze and the XPression systems are controlled by the DYVI's user interface, which an operator uses to send commands to load and playout content. The production staff can record these commands as macros in DYVI and simply recall them later. This gives the technical director the ability to configure and customize programs, all ahead of time and all entirely inside the switcher. This level of flexibility is something especially useful inside a multi-purpose venue like 'The Rock' that needs to switch between programs for hockey, basketball and live music on a regular basis. "The opportunities to engage with fans during a hockey game need to be taken advantage of in the right way," said Ben Broder, the Director of Game Presentation and Event Production at the New Jersey Devils and Prudential Center. "This is a fast sport that's full of energy so in-arena video content must reflect that, and having DYVI in place ultimately lets us create better tailored content – faster than we've been able to previously."
More efficient production

Using DYVI removes unnecessary steps from the production process and its multiviewer adapts with customized pre-sets so operators spend more time creating assets and less time managing them

Future-proofed infrastructure

The software-defined architecture of its new switcher allows Prudential Center to build on its workflow and continue to improve its output without needing to replace the current infrastructure.

Accessible and collaborative workflow

With IPWeb the marketing and digital teams can easily access assets to create additional promotional materials and supplementary programming.

Customizable video graphic assets

From themed nights to reacting to popular events, the EVS workflow lets the New Jersey Devils' produce more immersive in-venue programs for their fans.

Industry standard technology

Integrating the EVS workflow with third-party systems lets Prudential Center's team more easily output content from a single piece of technology.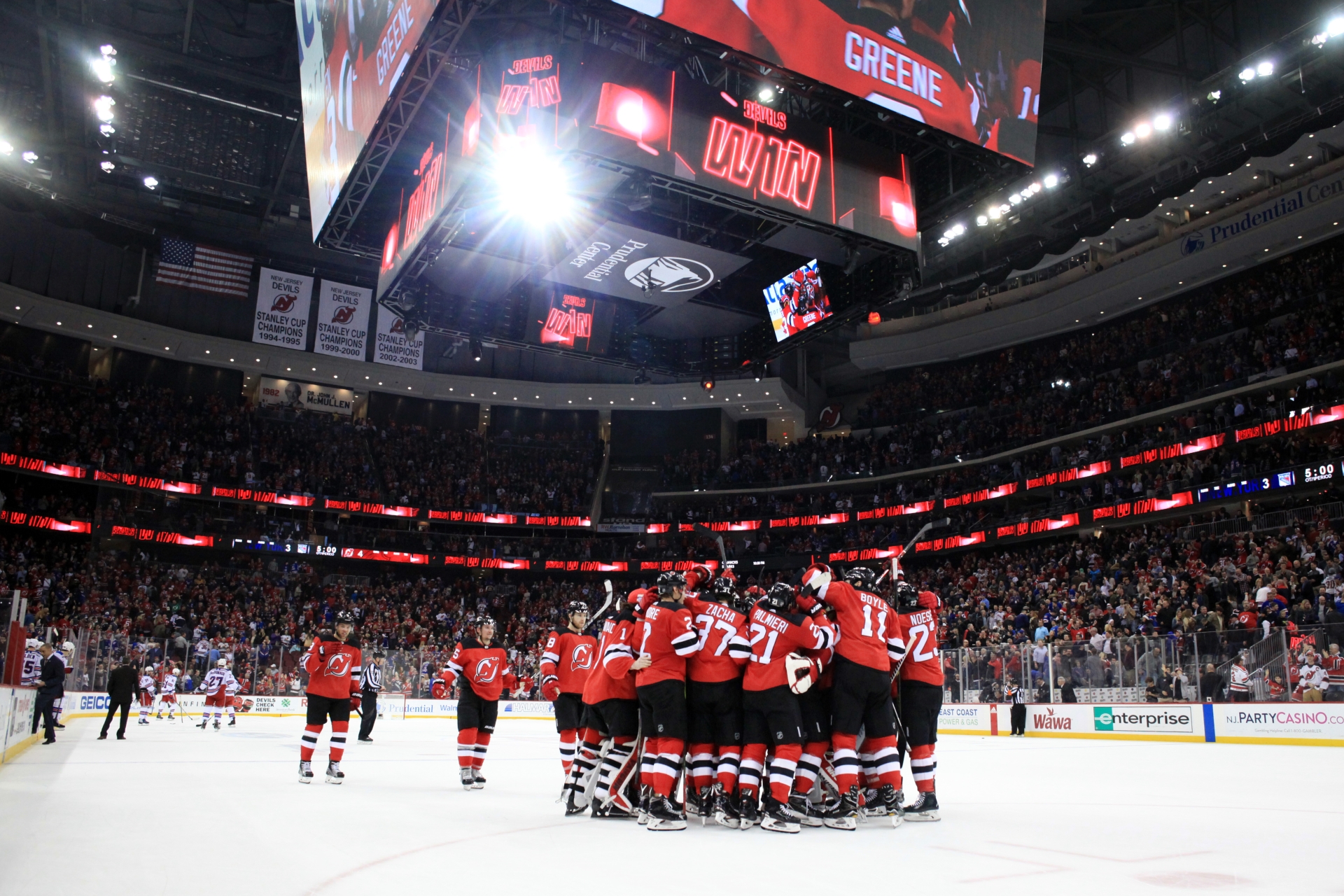 "The opportunities to engage with fans during a hockey game need to be taken advantage of in the right way. This is a fast sport that's full of energy so in-arena video content must reflect that, and having DYVI in place ultimately lets us create better tailored content – faster than we've been able to previously."
Outcomes
EVS equipment brings about many benefits when deployed inside a multi-purpose venue like Prudential Center. The speed of the workflow means operators can turn entire shows around incredibly quickly. And as someone who directs the in-arena show on gameday at Prudential Center, Joe Kuchie, Manager of Game Presentation and Event Production for New Jersey Devils, feels as though the easy-to-use nature of the DYVI switcher is perhaps the most beneficial feature of the EVS workflow.
"Building graphics windows and elements for the scoreboard's program is just so easy – I can change entire graphics packages very swiftly. We recently celebrated the retirement of the No. 26 jersey that belonged to the Devils' 20-year veteran Patrik Elias, where I was able to build a graphics package for the event in just one morning without needing to call in a TD to create complex assets. It's this kind of flexibility that we're really able to benefit from, creating output that's very engaging."
And with just a few months between the end of one season and the start of the next, production teams at Prudential Center require technical facilities that they know will last and can build on without extensive installation and training.
"Because EVS equipment integrates so easily with other systems, we can customize our programming however we want," concludes Ben. "This allows us, as the New Jersey Devils, to continue improving the product we create, engaging with fans, year after year."