Mediacorp finalizes massive end to end newsroom production system powered by EVS technology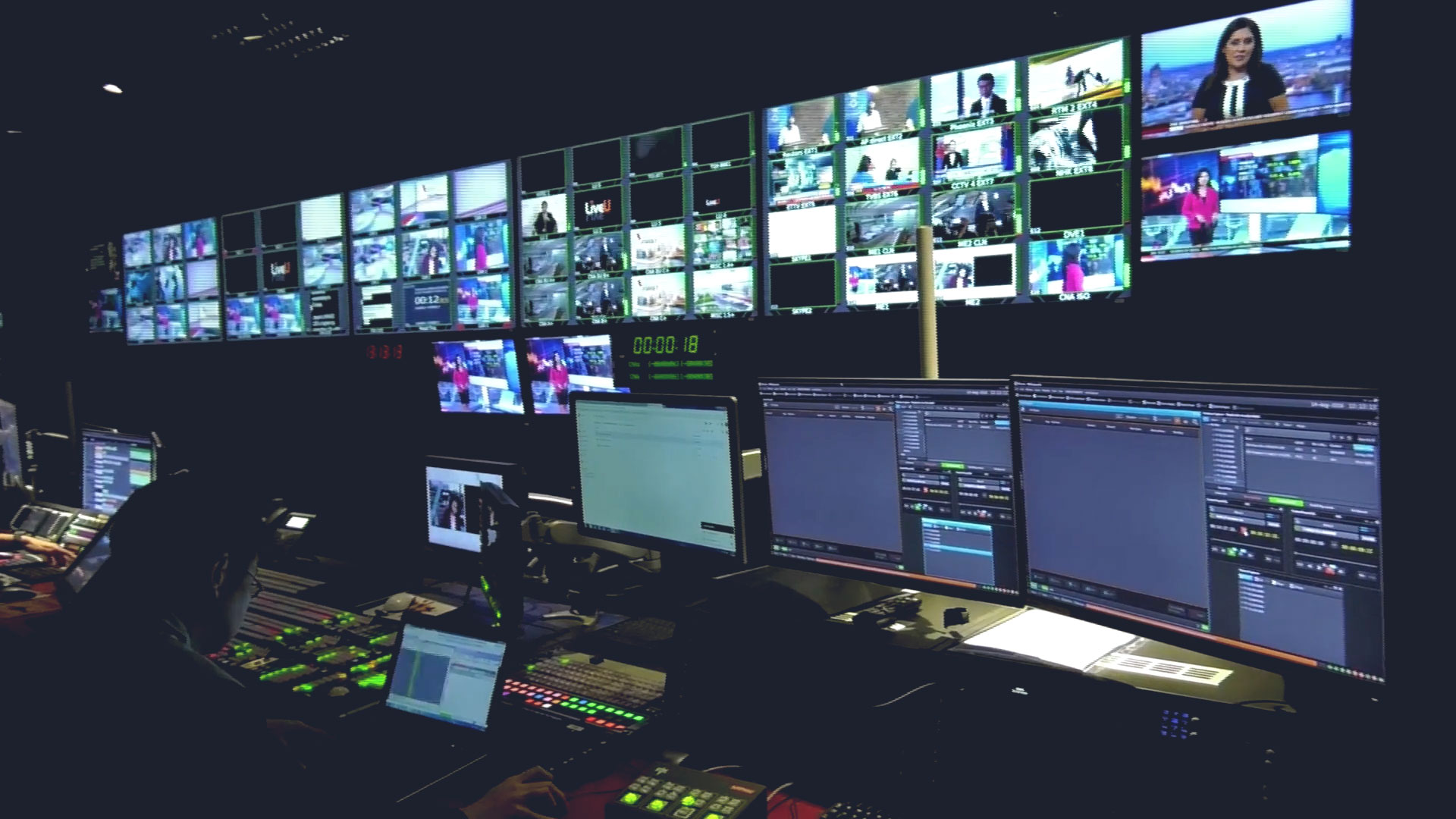 10 September 2018
EVS.com
Customer profile
Mediacorp is a leading media company with the widest range of media platforms in Singapore spanning digital, television, radio, print and out-of-home media. At the beginning of 2013, the company started construction of its impressive new broadcast center as it planned to cease content production from its previous Caldecott Hill base. The brand-new campus features two large studios, post-production facilities, news gathering and broadcasting facilities as well as a 1500-seater theatre and production office space. 
The challenge
These new facilities needed to be equipped with the most up to date production workflows so Mediacorp's technical engineers designed a HD content workllow that provided a single platform for the company's news and current affairs production. A disparate workflow of solutions was not an option - the workllow needed to be an end-to-end system that represented a new kind of seamless system architecture that Mediacorp wanted to adopt inside its new headquarters. The aim was to operate a single work/tow while remaining scalable for continued growth. 
The facilities inside the new Mediacorp Campus had to cover everything from ingest to playout while integrating easily with a wide range of third-party systems. There were two incredibly important factors for the workflow - the first that it had to be as reliable as possible in order to operate 24 hours a day, seven days a week on mission-critical live productions. It also needed to be large enough to accommodate over 500 journalists working with the system - often at the same time. 
The solution
Mediacorp selected several EVS solutions to provide its new broadcast center with a full end-to­end news production workflow. As a result. a huge amount of EVS technology was implemented into Mediacorp·s new media complex including live production servers, production asset management systems and content transfer engmes. It also features central shared storage and multiple modular tools and live production applications that enable faster, more effective content creation. 
Content ingest
The production facilities in place at the complex include seven 6RU XS live production servers ingesting live feeds both from the campus· studios and from newsgathering or outside broadcast crews. Two IPDirector live production asset management (PAM] systems are used to control these servers for content ingest. Post-ingest, an additional four IPDirectors let users manage content by creating playlists, adding metadata and assigning it to specific projects or destinations within the infrastructure including archive, shared storage or playout. 
To ingest additional content from camera cards shot by electronic newsgathering (ENG) crews, Mediacorp's journalists also benefit from ten Ingest Funnel lite applications. Installed on dedicated computers, Ingest Funnel has a single interface that solves the issue of needing to conform multiple files in several formats. It easily transforms, legalizes and masters all ingest formats, getting content ready for use inside the Mediacorp production chain.
Core infrastructure
The technological backbone of Mediacorp"s workflow is a core infrastructure of 42 XTAccess transcoding and transfer engines and eight additional servers. The XTAccess engines allow the 
simple transfer and transcoding of media across the entire workflow, converting and delivering content at the high speeds expected in today's live production work/lows. 

Four of the servers installed at the infrastructure's core are DB servers - two running the workflow·s IPDirector systems and the other two the Xedio applications that are deployed. Four additional servers are used for the support of workflow applications - two for the Xedio MOS gateway and the last two for the Xedio archive tool. 
Central storage
Once content has been ingested, managed and conformed if needed. ifs delivered to the infrastructure·s central storage. For this Mediacorp implemented EVS" XStore SAN storage, a 492TB system which has the capacity to store 12,000 hours of high-resolution or 20.000 hours of low-resolution content. 
Evs· XStore is built for operations that are too important to leave in the hands of a shared storage solution that won·t meet your live production needs. Mediacorp·s XStore high-performance central shared storage solutions addresses the ever-growing challenges that come with managing video content in a 24-hour production workflow.
Post-production
With a wide variety of programming being created, the end-to-end workflow includes facilities for rough, editorial and craft editing of programmes. Rough assembly of content is managed by journalists using 280 Xedio Cutter applications installed by Mediacorp. With this, users can create a story framework they can pass on to Mediacorp"s dedicated editors doing the craft cut using the expansive Adobe Premiere Pro CC install within the facilities Here, 12 dedicated edit suites benefit from EVS" lPlink for Adobe plugin. 
IPlink gives users the ability to view and use any content that"s managed by IPOirector from within a dedicated panel in Adobe Premiere Pro CC. The speed with which editors need to access content is incredibly prevalent in today·s live productions and by implementing IPlink into its edit 
work/lows, Mediacorp is able to create more efficient post-production processes on this basis. 
However. sometimes a journalist will have a breaking news story that can·t wait for craft editing When this is the case - or for those without access to the 15 !Plink-enhanced Premiere Pro CC edit suites - journalists can still go beyond an initial rough assembly. They can edit content themselves using one of the 170 workstations installed with EVS Xedio CleanEdit.
This application is a customizable NLE software specifically designed for the production of fast­turnaround news stories, making it ideal for Mediacorp·s 500-strong team of iournalists. Easily connected to any production environment. Xedio CleanEdit can be deployed by Mediacorp for the edit of high-resolution content or low-resolution proxies.
Playout
Once content ingest. management and editing is complete, an additional five XS live production servers take care of the playout of programming from the news production control room to Mediacorp·s fives news channels. All of the workflow·s 12 XS servers - whether for ingest or playout - are interconnected with a high-bandwidth media sharing network using two XHub3 systems from EVS. 
End-to-end solution installed

Mediacorp didn't want an infrastructure of disparate elements. The solution that's been delivered is a complete workflow - from start to finish.

Easily expandable

With the flexibility of the EVS solutions implemented into its facilities, Mediacorp can continue to grow its production workflow as needed. 

Industry-leading reliability and speed

Every product EVS offers has its technological basis of speed and efficiency - something key when implementing a 24-hour workflow like the one at Mediacorp.

Third-party integration

While EVS solutions form the backbone of the news production workflow, Mediacorp is easily able to integrate third-party products into the infrastructure. 

Global training and support

EVS has the size and global footprint to be able to deliver such a large amount of technology on time and on budget while providing the highest level of support and training.
"We produce a huge amount of content every day so our production infrastructure has to operate quickly and efficiently while coping with high volumes of content traffic and transfers. Implementing the EVS technology ensures that we're able to achieve this."
Outcomes
The technical install of the EVS production workllow at the Mediacorp Campus started in December 2015 and took just short of a year to complete. It was accepted in November 2016 before the first channel began broadcasting from the campus in February 2017_ All of Mediacorp·s channels had migrated to the new media campus by March 2017 and all activity at Caldecott Hill ceased in August.
"The scale of the technical facilities that have been implemented at our new Mediacorp campus is beyond anything we·ve done before" said Norraine Yusol, Vice President, News Production Services at Mediacorp. "With EVS, we were confident they would be able to deliver such a large solution and  their technology could easily cope with the huge workload we need to undertake every day. The technology we·ve installed for the newsroom, from ingest to playout - and the support and training we receive from EVS - was key to ensure our workflow operates seamlessly for our journalists and technicians."
For the amount and quality of the news programming that"s being produced for all Mediacorp channels, a huge live production workflow had to be implemented. Each day, approximately 2000 jobs are completed by Evs· XSquare application which is put in place to easily transfer and transcode content from live ingest through to storage or delivery. The high-quality level of technical infrastructure allows Mediacorp to produce the 60• news segments it outputs every day - a vast amount of activity, for any media organization.
 "We produce a huge amount of content every day so our production infrastructure has to operate quickly and efficiently while coping with high volumes of content traffic and transfers," continued Norraine. "Implementing the EVS technology ensures that we·re able to achieve this." 
*Photos courtesy of Mediacorp