TVM rolls out OB10 with EVS IP live production backbone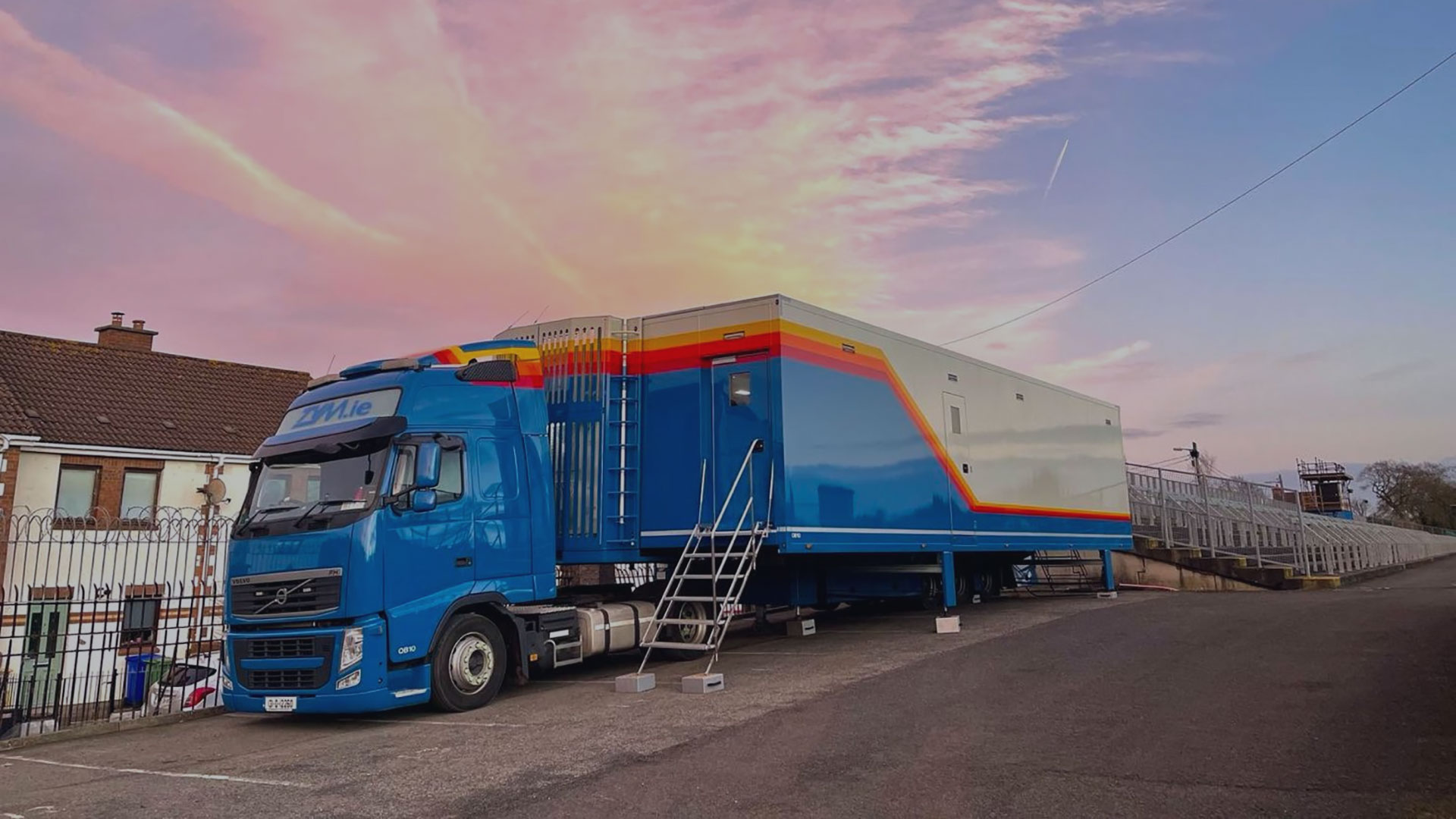 Customer profile
Television Mobiles (TVM) is an outside broadcasting company based in Bartlemy, County Cork in Ireland. Established in 1986 by Bart and Helen Arnold, TVM provides high spec trucks, specialised equipment and talented crew to a variety of clients, from production companies to TV broadcasters and private clients.
TVM moved into its new headquarters building in 2012. The custom fit building was built to Passive Haus standards with green energy credentials boosted by 300 square metres of PV cells. Together with its low emission fleet of OB units, the company has put in place a sustainable business model.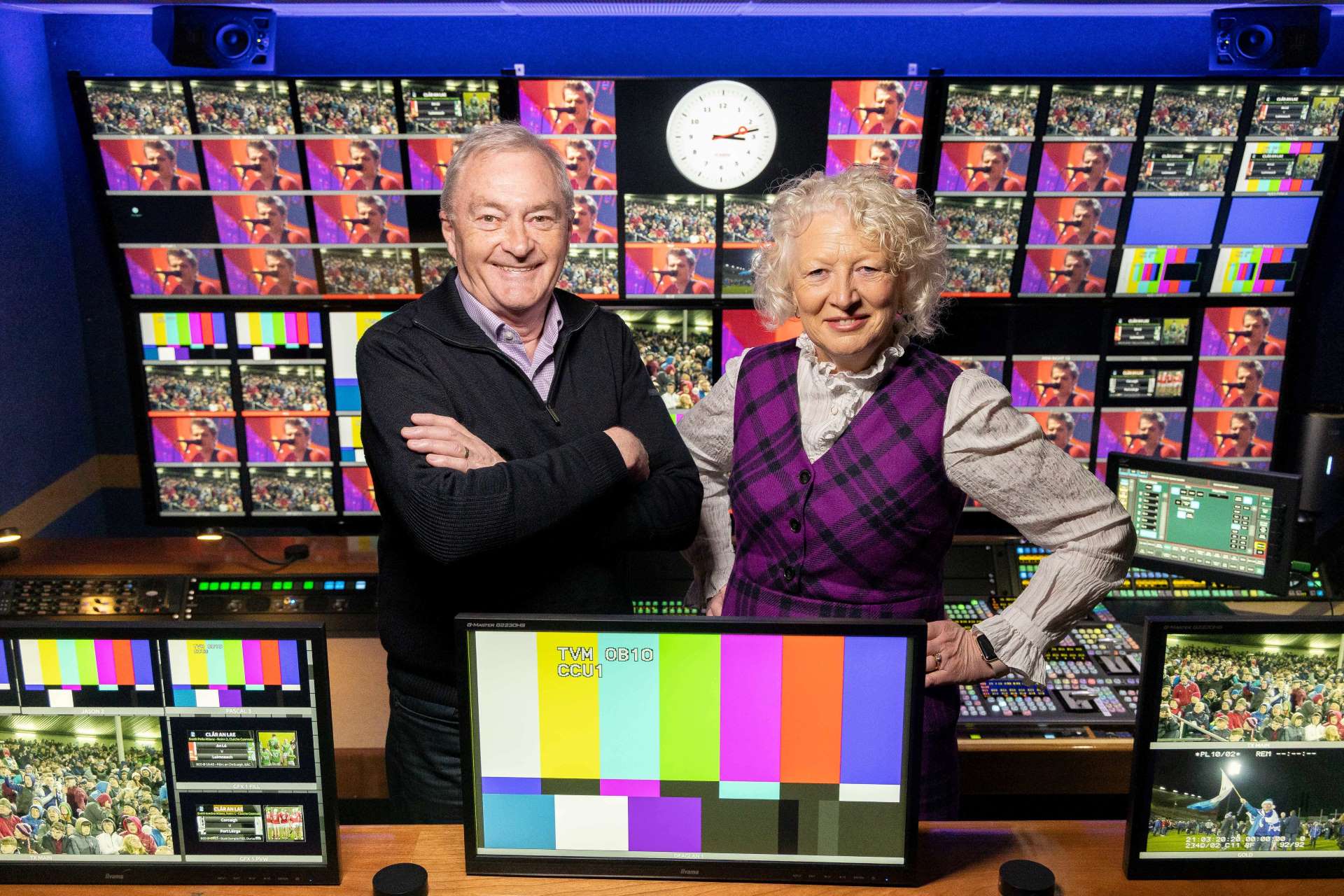 The challenge
In planning for its new OB10 truck, a key departure for the TVM team was to move to SMPTE ST 2110 IP-based operation for the first time. TVM also decided to implement a UHD-based production infrastructure for OB10, in line with its flagship triple-expanding OB8 unit which was upgraded from HD to UHD operation in 2018.
As the business is independently owned and operated, decisions can be taken with a long term view in mind. TVM also places great emphasis on adopting new technologies, even if this is sometimes challenging, to help future-proof the business and enable each of its senior technical team members to learn and understand new broadcast workflows.
This is especially important being rurally located in a small country like Ireland, which does not have a network of systems integrators and equipment hire companies supporting broadcast production. Self-sufficiency, to the greatest extent possible, is very important for the TVM team. 
 
"We were first into HD here in Ireland, first into 3D, first into 4K UHD, and now first into IP," said Technical Director Eoin Coakley. "As a technology business we want to be relevant and we want to be dipping our toes into technologies so we have real life experiences and learnings that give us a way forward if other opportunities come along – and we're not sitting here with a limited knowledge.
"If you make a business case for it, you probably don't go IP," said Coakley. "It's still more expensive than baseband. But one of the main reasons we went down the IP road wasn't necessarily because we had to, rather that we wanted to drive our technology and our knowledge. We wanted to be ahead of the curve."
Commit to the introduction of an IP-based OB truck with the support of a trusted partner

Build a new truck that would be as scalable, flexible and future-proof as possible

Overcome challenge of unfamiliarity by learning about real-life SMPTE ST-2110 IP-based audio and video workflows

Ensure an efficient operation supporting multiple formats and to allow for capacity expansion

Integrate and control complex technology layers, including legacy live production signals and protocols
The solution
At the time of planning the new truck the TVM team perceived a change in support for traditional 12G-SDI infrastructure among some broadcast manufacturers, and felt now was the time to make the move to IP-based operation. The team required a close relationship with its chosen supplier as they anticipated that a conversion to IP would be both a partnership and a long journey.
"The Cerebrum-Neuron concept was appealing in the flexibility and roadmap EVS put in front of us, not just from a vision point of view but from an audio perspective as well . That led us to believe that with EVS support we could go forward with an IP-based rather than traditional 3G-SDI or 12G-SDI approach." 
The single-expanding OB10 truck was built by specialist coachbuilder A Smith Great Bentley Ltd. Launched in late 2021, it is on the road in Ireland covering European Rugby Championship Cup for BT Sport and the GAA Gaelic Games Championships for RTÉ Sport.
TVM has deployed an extensive product range from EVS on the new truck including IP routing, Synapse multiviewers, signal processing, live production servers and LSM-VIA controllers. The EVS MediaInfra solution, including Neuron and Cerebrum, is a key IP element of this project. From the LiveCeption Signature range TVM has chosen XT-VIA servers, the new LSM-VIA live replay and highlights system, and XFile3 connected archive and file exchange, all running on the XNet-VIA high speed network. 
With a proven track record across OB productions worldwide, Cerebrum offers the most comprehensive third-party device control in the market. Its reliability and simplicity make it the ideal fit for TVM now and in the future. 
The Neuron networked attached processor is the 'modular glue' for IP infrastructures, capable of doing all audio and video processing required in the IP world. Built to fit in any existing and future IP broadcast infrastructure, the Neuron platform offers the most powerful processing capabilities in the industry.
Cerebrum visual control was also felt to offer operational advantages as there are many freelance operators in the market familiar with the system. XT-VIA and LSM-VIA offer increased flexibility and channel count, and by using the Neuron's IP conversion the XT servers can be used as part of existing legacy SDI fly packs and trucks.
"Cerebrum was a completely new thing for us," said Coakley. "With Cerebrum we had to tear up our existing workflow model, if you like, and go a different way. But our whole goal was always to make the operator experience, across all our trucks, as similar as possible.
"If you are sitting with an EVS controller and routing panel it works pretty much the same way as the truck you were in yesterday or will be in tomorrow. Behind it we can have all kinds of equipment that's different: but that continuity was important to us. And I think we have achieved it."
On OB10 the IP network is anchored by an Arista Ethernet switch. Cerebrum is the enabler for multi-vendor device integration within the truck, controlling a Grass Valley K-Frame production switcher, Calrec Artemis audio mixer, EVS Neuron IP processing, EVS XT-VIA live production servers, a Clear-Com Freespeak II DECT-based intercom system and ADAM Audio loudspeakers.
"Most of our trucks are baseband," said Coakley. "So the decision with OB10 was to stay with IP conversion for the EVS servers. That was because we need to move the EVS's around the trucks so couldn't really have IP-only equipment. Not at this point anyway."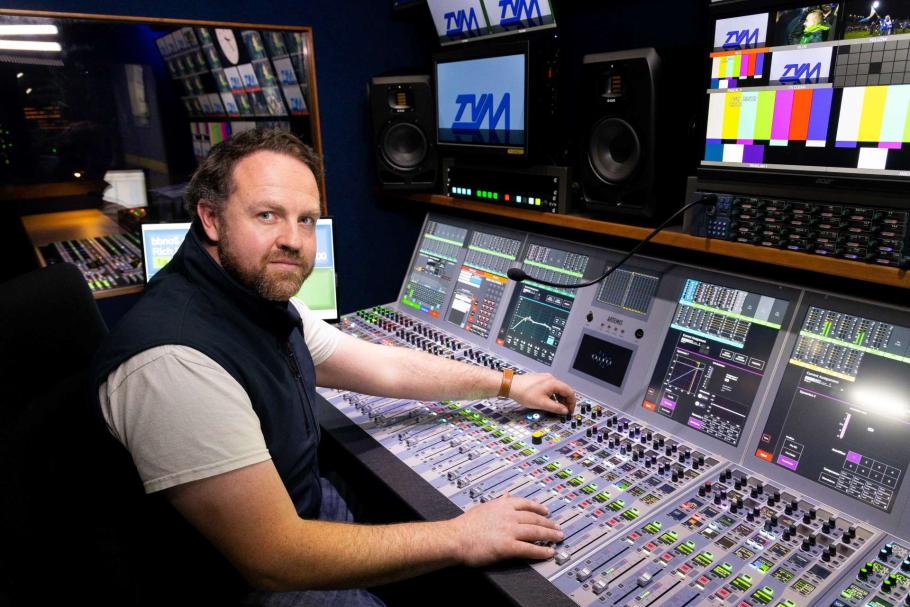 The challenge of moving to SMPTE ST 2110 extended to the audio as well as vision workflows on OB10. "It's been a learning curve for all of us since the start really, since the first Covid-19 lockdown," said TVM Senior Sound Supervisor Darius McGann. "We were able to immerse ourselves in learning about audio over IP. 
"The concern was about the interoperability of new devices that just haven't been used together. Obviously Dante has been the front-runner in audio over IP for a number of years, but then SMPTE brought out their suite of protocols with AES 67 and SMPTE 2110-30. You think 'that's it, everything is going to work; we can tie all these devices together.' 
"The transport protocols are all the same, but the discovery protocols are different. So you've got two devices that just won't talk to each other, even though they're streaming the same thing. There's always a fix; but a number of times we have had to ask people how to get these devices to talk to each other," said McGann.
"It's all running and running well, but from an audio point of view there were a number of things that had not been done before -- certainly between specific devices and specific manufacturers."
Outcomes
Lockdowns across Europe caused by the Covid-19 pandemic also altered the timeline for installation and testing equipment for OB10. "It created the problem whereby when we got delivery of kit we weren't able to fly people in for commissioning and training," said Arnold. "We couldn't bring anyone in because everyone was in lockdown.
"So it meant that all the people here had to learn a lot more quickly, with help over the phone and Zoom to get to grips with how to make the kit work. But we've got a broader base of knowledge now, and less fear about a scenario where something goes wrong and figuring out how to get around it."
Joe Hannafin is Head of VT Operations, responsible for marrying the new XT-VIA servers and LSM-VIA controllers with other devices on OB10 and also with legacy EVS live production servers and replays on TVM's fleet of trucks.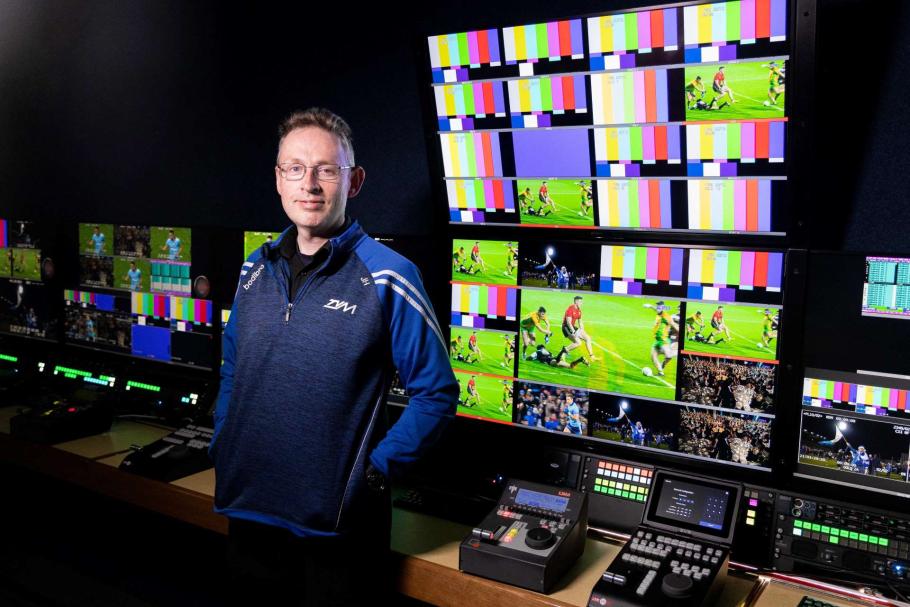 "The beauty of the EVS controller has always been that when you grab the wheel it's so responsive, and nobody else has been able to touch that. All of the freelance operators know how to use EVS.
"The fear when we went from SDI to IP was that you would lose that responsiveness -- but it's just as responsive. The legacy LSMs are compatible with the new-generation servers, and that's the great thing about them: you can put controllers on and they can talk over the network, so to the operators it's completely transparent. This was mission-critical for us," said Hannafin.
"The advantage of the new LSM-VIA is you have a lot more physical buttons and you have a touchscreen. As the software develops the complexity in operation is completely gone, because everything can be re-marked and is user accessible. It's just a much easier way to use the advanced capabilities of the server as it develops.
"With the LSM-VIA you can bring all the key combinations for each function and modifiers down to one button push. It makes it all easier for the existing operators, but also for new operators. The biggest obstacle for operators has been learning the number of key combinations required to get up to speed, whereas this is just quicker and easier to pick up," said Hannafin.
TVM has begun discussions with EVS about upgrades to existing trucks based around the Cerebrum-Neuron philosophy. "We have faith in the EVS products and faith in the people behind the products," said Arnold. "We've been using EVS kit for about 20 years so there is a history there.
"And relationships are really a key to this business: if you trust someone and you get on with them you're more likely to go there even if someone else is giving you what appears to be a really good deal. The people you can call on the phone when you're in trouble are the most important people in your contact book."
According to Eoin Coakley, "We could have built a baseband truck cheaper than we built OB10, and probably a lot easier for our people to get their heads around – but actually it would have done nothing for us going forward. With OB10 we've built something that is as scalable, flexible and as future-proof as we could make it.
"I think the principles of the truck are right," said Coakley. "We're very comfortable with the decisions we've made. Now that we've deployed the truck and successfully completed some events we're very happy with what we have achieved. We feel we have gone the right way, and we would probably go this way again."
Production success

Working with EVS, TVM has a sophisticated multi-vendor IP offering that is delivering major live broadcasts including European Rugby Championship Cup for BT Sport and the GAA Gaelic Games Championships for RTÉ Sport.

User experience

The EVS live production and control backbone enables TVM to achieve a key goal: to ensure that the operator experience, across all its trucks, is as similar as possible.
 

Operational flexibility

The scalable future-proof solution can easily add an IP layer to other trucks in the fleet, providing operational flexibility and opportunities for new business. 
 

Controller power

With more physical buttons and a touchscreen, the LSM-VIA makes the operator experience faster and easier.
 

Technology transition

TVM staff can manage complex technology layers, switching between SDI-HD, 4K and IP workflows quickly and efficiently, saving significant time on set-up and configuration. 
 

Partnership approach

With EVS, TVM has a partner with them every step of the way from its next production to the next technology upgrade.