30.2022 PRONEWS LSM-VIA 1.4
Dear EVS Operator,
Welcome to the new issue of Operators' ProNews, dedicated to the community of replay operators.
This month we introduce LSM-VIA 1.4 and its new features and operational improvements.
22 February 2022
30.2022 PRONEWS LSM-VIA 1.4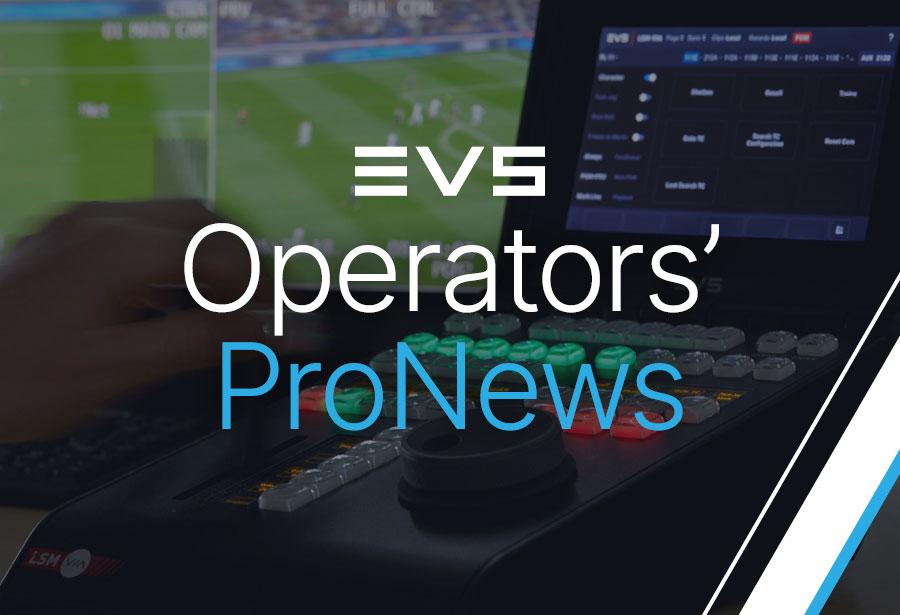 Operational Improvements
The new LSM-VIA 1.4 release is full of small improvements to speed up your operations even more and enhance your production.
Edit key in Playlist Playout Mode

We have now added an Edit key in the Playlist Playout Mode allowing you to go directly into Playlist Edit Mode with just a touch of a button. Other ways to get into Playlist Edit Mode are still available; by pressing only once the PLST key before loading the Playlist or by touching the Jog Wheel when already in Playlist Playout Mode.

LSM-VIA Viewer Toggle Focus

When pressing F10 in the LSM-VIA Viewer application a Playlist Panel opens up on the right side. In the previous versions the focus bar shifted towards the Playlist Panel as well. From now on the focus remains on the Clip Grid allowing you to continue working and quickly select the desired clips. If you need to toggle your focus you can still use the "CTRL + TAB" shortcut on your keyboard to switch between Playlist and Clip panel.

New Shortcuts on LSM-VIA Remote

We noticed all LSM-VIA operators love using the progammable shortcut buttons available on the remote. Therefore we have expanded the possibilities of these buttons with new shortcuts available in this latest release. From now on you are able to add: Fast jog, Character ON/OFF, Trains, Back to Local, PGM Speed, Var Max, Second Lever Range and Loop.

Recue shortcut from LSM-VIA Viewer

Operators working a lot on the VGA will probably know that you can recue your clip from the VGA with the shortcut "ALT + R". This shortcut is now also available in the LSM-VIA Viewer applications allowing operators to Recue a clip after they played it out by using the shortcut "ALT + P".

Improved "Home" shortcut from LSM-VIA Viewer

In previous versions you got transported back to page 1 bank 1 when pressing the "Home" shortcut button on the keyboard. With this release you will be brought back to bank 1 of the corresponding page you were at when using the "Home" button.

Call by ID improvements

With the Call by ID function in the LSM-VIA Viewer you can recall a Clip, Playlist or Record Train on your smallest PGM output by typing the corresponding LSM-ID in the name field, and by pressing the "F3" shortcut key on your keyboard.
With this version if your call is successful the name field will be cleared automatically, however when calling a nonexistent LSM ID the text in the name field will remain there.

Content Feedback on LSM-VIA Touchscreen

From now on you get feedback about the loaded media on your smallest controlled program on the LSM-VIA Touchscreen. In both the Live screen and the Clip screen, you can see at the top of the Touchscreen the smallest controlled program controlled by your LSM-VIA remote and which corresponding media (Clip or Record Train) is loaded on the output.
EVS offers a wide range of training opportunities - for freelancers or in-house crews - in different locations across the world. You can get all the information you need on the Training page of the EVS website – including course descriptions and booking details.
From this page, you can also access our e-learning repository, where you will find free-of-charge educational materials including videos and tutorials – anything to help you develop your EVS product and solution knowledge and brush up on your skills. 
A full range of manuals, guides and updates is available from the Download area of the new EVS website. If you don't already have an EVS login, you'll be invited to create a personal EVS account, to help ensure that you're kept up to date with only the most relevant information and updates. This will also allow you to download all the information you need, completely free of charge.