Cisco
Certified solution partner
Cerebrum and NDFC: The Next Chapter of the Cisco and EVS partnership
In 2022, Cisco introduced their Nexus Dashboard Fabric Controller (NDFC) as a new way to manage IP based Media Fabrics. Cisco NDFC is a comprehensive SDN solution that enables the provisioning and management of network infrastructure across multiple locations at scale.
EVS Cerebrum is a well-established broadcast control system used by some of the world's largest broadcasters to manage complex live productions and media workflows.
The integration of Cerebrum and Cisco NDFC not only simplifies management of IP-based production workflows and network infrastructure for media, but also provides deep visibility and monitoring capabilities enabling operators to easily identify and troubleshoot issues effectively.
Cisco NDFC runs as a service on top of the Nexus Dashboard (ND) cluster that can be either a physical or virtual appliance and provides simplified and enhanced end-end fabric automation capabilities as well as monitoring and visibility for Cisco IP Fabric for Media (IPFM) deployments. Cisco NDFC embraces a complete Kubernetes-based micro-services architecture making it easy to horizontally scale and build large fabrics that help improve performance and reliability.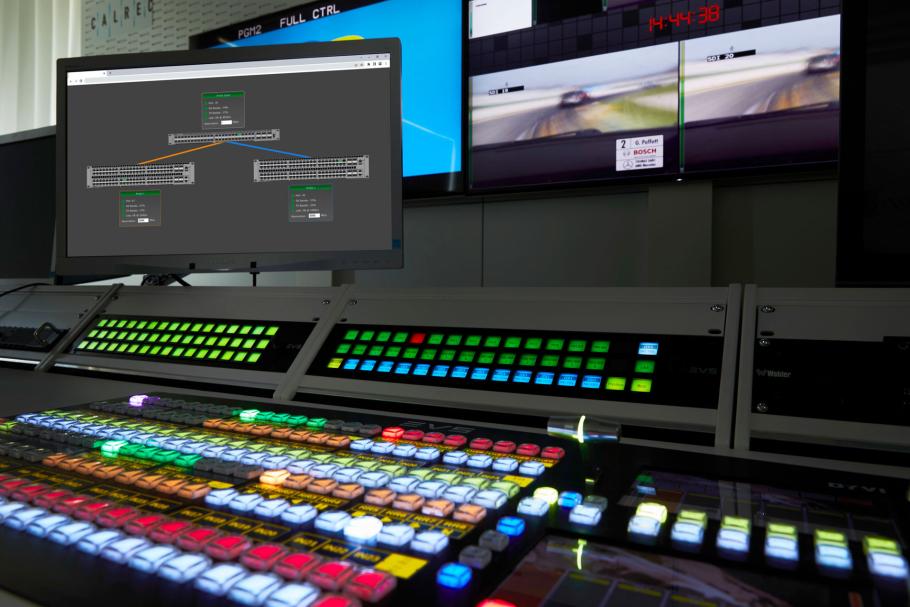 Advantages of the integration of Cisco NDFC in Cerebrum
EVS is leveraging NBM active mode and NBM host and flow policies to manage dynamic bandwidth allocation for audio, video, and ancillary flows. This integration provides tighter control of the multicast streams as they steer intent and policies from Cerebrum.
Offloading the management of the network to Cisco NDFC enables Cerebrum to extend support for flexible, scaled, and distributed IP-based architectures with ease.
Supporting connectivity to both RED and BLUE NDFC for High Availability (ST2022-7) designs, deployed in 24/7 facilities.
Key features of Cisco NDFC
Easy Fabric builder

Supports pre–configured policy templates that follow industry's best practices, to build your Cisco IP fabric for media underlay and Non–Blocking Multicast (NBM) network in minutes

Role Based Access Control

Allows the assignment of different roles to different users, per fabric, for a granular policy deployment.

Multi-Tenancy

Allows you to logically isolate customers or consolidate multiple workflows on the same fabric.