Neuron PROTECT wins Best of Show Award at NAB 2022
We are proud to announce that EVS has won the TV Tech Best of Show 2022 Award for Neuron PROTECT
The TV Tech Best of Show 2022 awards recognize outstanding products and solutions from the technology and media industries exhibited at this year's NAB show in Las Vegas, with entries being considered for their innovation, prowess, and capabilities. The award was attributed to Neuron PROTECT following a rigorous judging process which evaluated value for money, feature set, ease of use and general merits of what it can offer users.
Unveiled for the first time at NAB 2020 as the latest addition to EVS' Neuron Network Attached Processor (NAP), the product has been designed to fully protect broadcast networks from single points of failure, using intelligent, redundant, isolated (automatic) changeovers. These are made to communicate with each other, meaning that if one fails, the other continues to output content on the network, ensuring full redundancy in any scenario.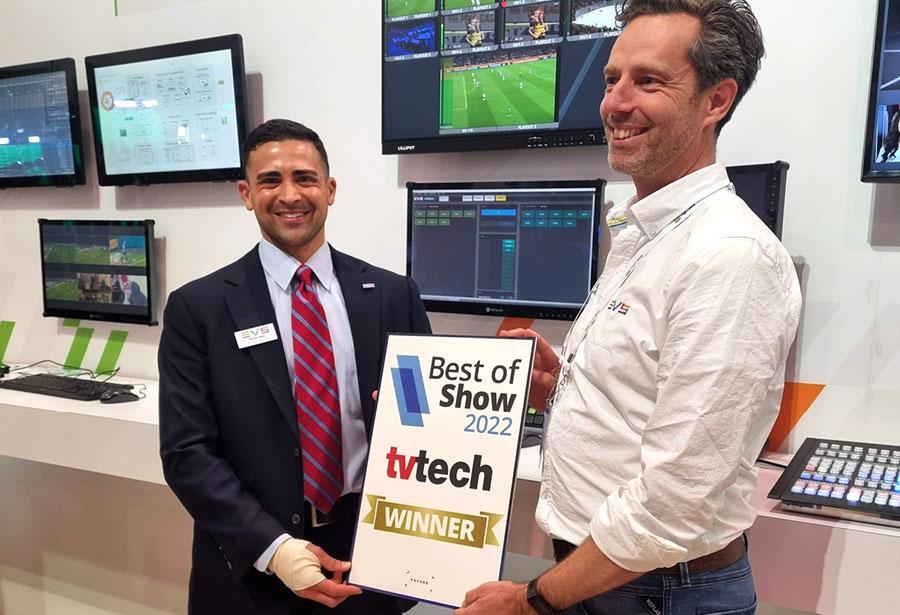 "With Neuron PROTECT, broadcasters benefit from the redundancy assurance they were accustomed to in the traditional SDI domain, but that has been missing since the migration to IP. It introduces a new, intelligent backup switching method to provide protection from unreliable or even hostile sources, ensuring full peace of mind during every live broadcast" said Jean Pierre Nouws, Solution Manager at EVS.
Neuron PROTECT uses all modern encapsulation standards like ST2022 and ST2110 and is capable of handling up to 16 channels of full HD or 4 channels of UHD and transporting these over two redundant 100Gb/s Ethernet connections. Optionally, Neuron PROTECT can be enhanced with an SDI I/O module, in which case it adds 40 physical SDI HD-BNC connectors, allowing easy integration of existing SDI operations in an IP environment, acting as bridge or gateway. It is a highly versatile product that can be used as a multi-channel A/V-over-IP transceiver, A/V probe, Up-down-cross converter, automatic change over (ACO) and firewall.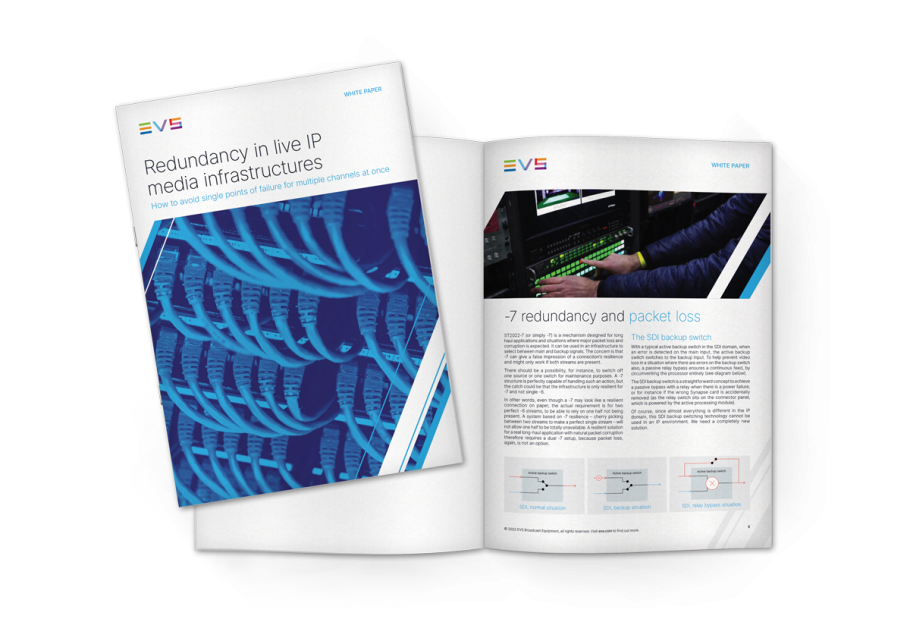 Read our white paper to learn more about how EVS addresses redundancy in live IP media infrastructures