RTL Belgium optimizes production processes with new flexible infrastructure
Customer profile
As a subsidiary of RTL Group, Europe's largest commercial broadcasting group, RTL Belgium is an influential leader in broadcast and digital media among the French-speaking community in Belgium. The company reaches millions of individuals every day through its TV channels RTL-TVI, Club RTL and Plug RTL, as well as its radio stations and digital platforms such as RTLplay.   
Innovation has always played a big part in RTL Belgium's success. In the early 2000s, together with EVS, RTL put in place what would become one of the most advanced fully tapeless TV production facilities in Europe, for the news production at RTL-TVI. Since then, both companies have continued to collaborate to bring improvements to the group's broadcast operations, implementing breakthrough technologies, and earning a prestigious IBC Innovation Award along the way.
The challenge
Driven by the need to increase the efficiency of its teams and to produce more content for its growing audiences, RTL Belgium sought to implement a new solution that would provide stronger foundations for future growth. One requirement was to streamline production processes by allowing remote collaborative working between staff at RTL House (RTL's HQ in Brussels), the local news agencies spread out across the territory, and the journalists on the field.
The media group was looking to deploy a solution that would put the story creation back at the centre of all its operations. This meant creating a unified production environment, where all the media assets coming from a wide variety of sources could be brought together onto a single platform. It also meant giving teams across each department access to those media assets to simultaneously produce content for RTL's multiple channels.
On top of that, RTL wanted to give its production teams the ability to adapt their workflows in a way that would suit their specific needs, while reducing the overall technical complexity of their daily operations.
The project called for a complete transformation of the existing setup, into a scalable and centralized solution that could smoothly integrate into the rest of their ecosystem and support advanced integrations with other third parties.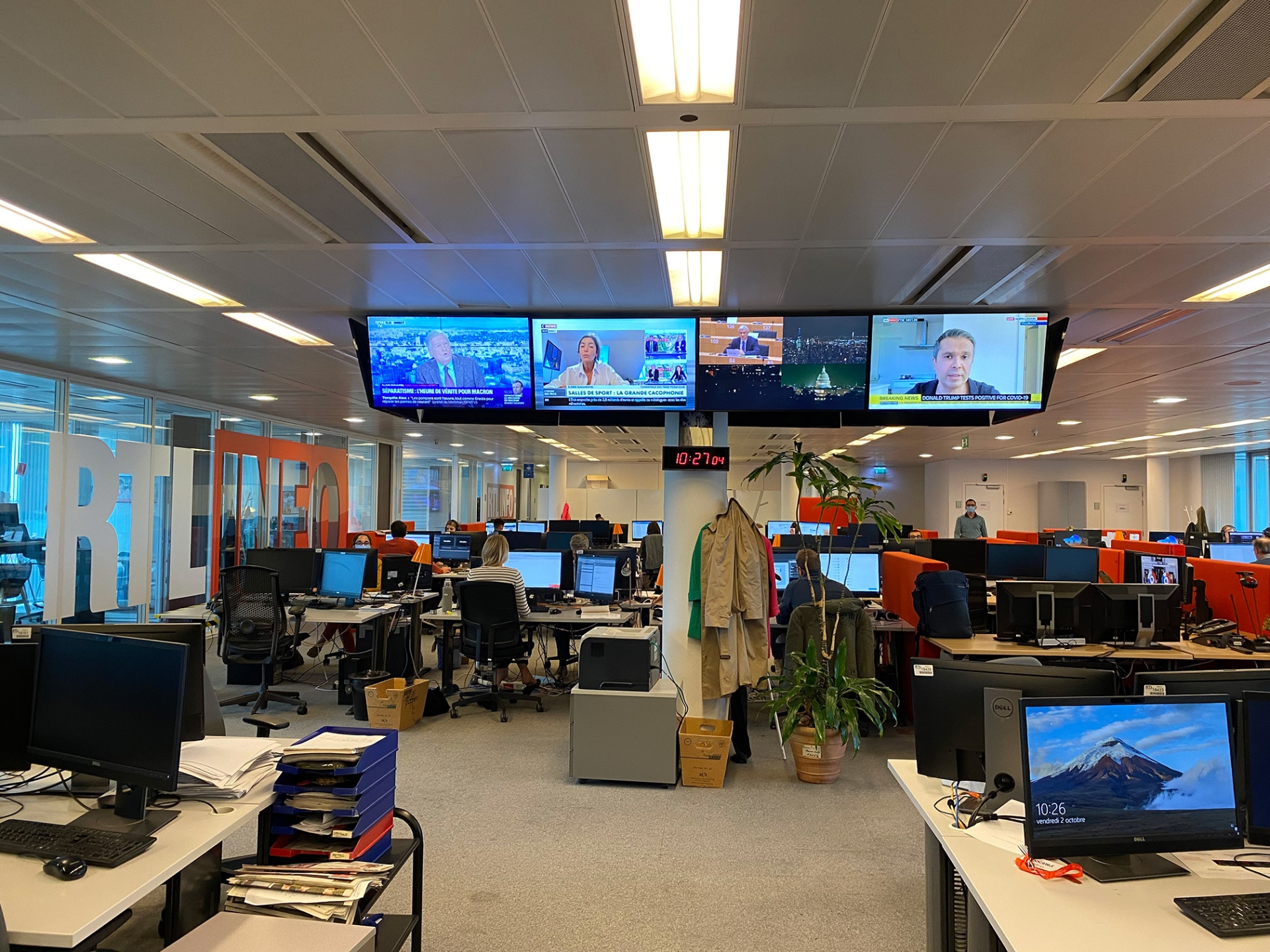 The solution
This ambitious infrastructure redesign was named 'New ERA Project', referring to the close collaboration between EVS, RTL Belgium and Adobe, the three main drivers of the project. Together, they set to deploy a solution that would be entirely built on EVS' innovative VIA platform, the starting point of the project. A key focus of development at EVS since 2018, the platform provides a new software foundation for all EVS' recent and upcoming products, providing its customers with an agile ecosystem that allows deeper integration with third party systems, with modules that can easily be added or removed depending on their needs.
RTL aimed for a phased approach, beginning with the implementation of IPD-VIA Ingest and IPD-VIA Import, the first two applications to be made available within the new IPD-VIA production asset management system. Used in combination with XS-NEO, EVS' new software-defined server, these applications provide an easy way for the RTL news production teams to automatically ingest feeds and import files from the agencies and from the field for central management at the RTL House in Brussels. The dynamic and concurrent support of multiple formats, codecs and framerates enabled by XS-NEO, helps streamline this entire news-gathering process.
To address its needs for customization, RTL deployed the VIA Flow workflow engine, a key component of the VIA platform which acts as a central orchestrator for all their media management workflows. RTL engineers can design their own workflows to do exactly what they want, thereby accelerating the import of files coming from disparate sources and facilitating their access for all teams. VIA-Flow also enables the automatic grouping of rushes transmitted from the multiple cameras on the field so editors can more easily identify the content they need from a single timeline of clips, rather than having to go through several files. Moreover, to guarantee fastest news to air, the rushes can be transferred and imported in a mid-resolution version and automatically replaced by high-resolution for archiving purposes or for  future broadcasts as soon as the cameras are handed back at RTL House.
"The underlying technology really empowers our teams to work the way they want, so they can be fully focused on creating better stories, faster."
An API layer was crucial to deliver a seamless content and platform management experience. The implementation of VIA Opengate, an open platform of APIs, allows RTL to build and manage custom integrations with their own existing systems, EVS' products in the VIA ecosystem, and with other third-party systems, all through a single interface.
Consequently, both IPD-VIA Ingest and Import applications are tightly integrated  with RTL's chosen editing software, Adobe Premiere Pro, and with their Media Asset Management (MAM) solution designed by Perfect Memory. This combination creates an advanced editing environment where users can retrieve archived and live content from a centralized place, saving a precious amount of time. The powerful MAM offers an automatic and semantic metadata indexing that enriches the content and makes it easier to manage and search through huge volumes of assets swiftly, and accurately. It also comes with improved rights management capabilities, allowing editors to know which assets they can use, when they can use them, and under which conditions.
 As a way to further speed up operations for breaking news, editors can work on low-resolution proxy content instead.  Once the final edit is validated, the VIA Flow workflow automatically transforms it into a high-resolution version using Adobe's render farm. The solution also integrates Adobe's Team Project service – a hosted cloud-based solution that gives users, regardless of their location, access to all media assets needed for a production.   
Also part of the solution is the powerful monitoring tool VIA Trace, which gives users an overview of all workflows and their status, allowing them to take corrective measure very early in the process if necessary.
"The VIA environment is great in giving our teams the flexibility they need for their daily tasks. As an example, journalists on the field can either make use of automatic import files for news agencies, just as they can create their own custom workflows for a specific usage or to support a specific format." said Thierry Peters, Media Technology System Manager at RTL Belgium. "The underlying technology really empowers our teams to work the way they want, so they can be fully focused on creating better stories, faster."
Trust and collaboration

EVS and RTL have worked hand in hand on the solution blueprint and implementation, and EVS teams remain committed to providing guidance and support throughout the project's entire lifecycle.

Industry-leading reliability

EVS world-renowned technology ensures that the RTL infrastructure can operate quickly and efficiently while coping with high volumes of content traffic and transfers.

A centralized production environment

EVS' IPD-VIA provides a centralized production asset management solution that allows users to access all the media they need and work on projects from a simple web interface, wherever they are located.

Strong integrations

Built on the VIA Opengate platform of APIs, IPD-VIA allows flexible integrations with RTL's in-house developments and other third-party systems. The advanced integrations with Adobe Premier Pro and with Perfect Memory's user-friendly MAM offer a streamlined user experience and further eliminate content silos in the editing environment. 

Custom workflows

VIA Flow allows teams to build workflows that can be easily customized to match their growing and/or changing requirements, guaranteeing maximum client autonomy.

Modular and scalable

Thanks to the microservices architecture of the VIA platform, RTL benefits from a modular, flexible and virtualizable solution that can scale quickly to meet current and future demands.
Outlook
As of today, all the import and ingest of RTL's newsroom media is going through the IPD-VIA/XS-NEO setup, offering optimized media infrastructure and operations, and guarantying all of its teams fast and efficient access to media.
Speaking of the future of the project, Frédéric Bochart, CTO at RTL Belgium explained: "Our objective is to roll out a full end-to-end version of the IPD-VIA live PAM across all RTL Belgium's departments as we move further into the project. This will allow us to converge our television, radio, magazine and digital content onto one single platform, encouraging more collaborative workflows in a unified production environment."
This New ERA Project marks the next evolution in the partnership between RTL and EVS and is one of the first real-world deployments of the IPD-VIA production asset management system.
"We have a long-running relationship with RTL's teams and we're extremely proud that they are among the first users of EVS' latest generation production platform," said Sébastien Georges, VP Markets at EVS. "Thanks to the flexibility of the VIA platform, we've managed to provide them with a tailor-made solution that is based on the reality of their production needs and can evolve over time. A new era of growth for RTL has well and truly begun."