University of Miami readies for primetime with Dyvi
Customer profile
Located in Coral Gables, Florida, the University of Miami (UM) is a top private research university with more than 17,000 students. The university comprises 11 schools and colleges, serving undergraduate and graduate students across nearly 200 majors and programs. It's also home to the Miami Hurricanes, 17 intercollegiate competitive varsity sport teams that are part of the Coastal Division of the Atlantic Coast Conference (ACC).
The challenge
UM's production demands increased with the 2016 launch of ESPN's ACC Network, which was created exclusively to broadcast ACC sports. Currently the network offers on-demand services and will debut live programming of ACC sports in August of 2019.
Each of the 14 schools in the ACC was tasked with implementing a broadcast infrastructure as they assume responsibility for producing home events for the ACC Network. UM needed an end-to-end workflow to create high-quality television coverage as well as digital programming worthy of the school and its reputation.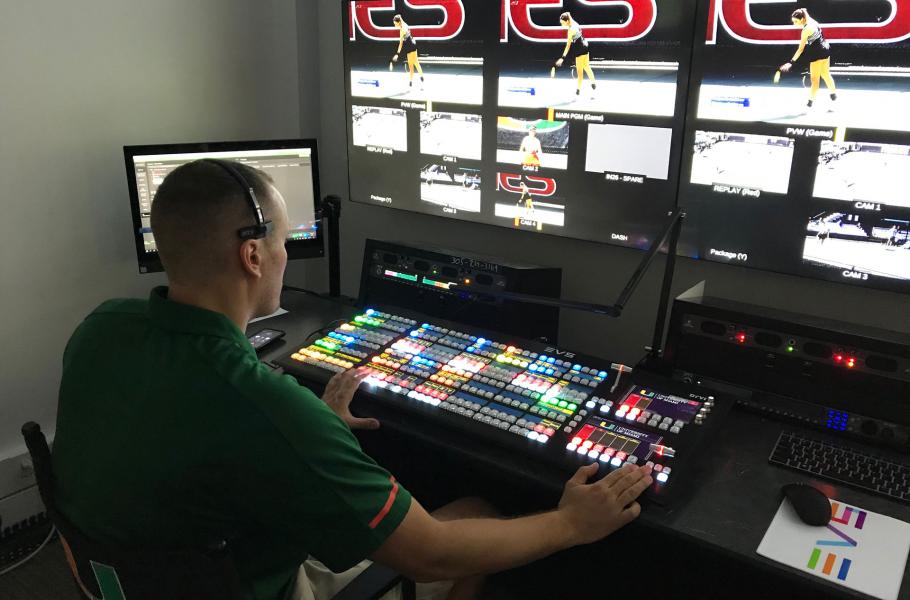 The solution
Drew Thomas, director of production services for UM, turned to EVS' Dyvi software-defined switching solution as the foundation of the new production infrastructure. The university is the first educational institution to deploy Dyvi for high-quality programming of multiple sports from a centralized media production hub. Dyvi's scalability, flexibility and highly creative production capabilities, have made it the choice of broadcasters, content owners and entertainment studios worldwide.
Dyvi combines enterprise-level IT hardware, creative software and an intuitive interface to enable complex, multi-layered video – all at the touch of a button. Unlike traditional fixed proprietary hardware, the scalable platform gives the Hurricane's production team exceptional creative freedom and a new level of production quality.
"It was a big step for us to produce the highest quality linear broadcasts," explains Thomas. "Dyvi gives us a whole range of options that just weren't possible before. The GUI lays out the panel of the switcher the way you want to see it. The flexibility to view things on the control surface and make changes in real time without having to start from scratch is a tremendous advantage and timesaver."
Dyvi's fully customizable design means it can be configured to precisely suit individual production needs and simplify controls. Each button can be assigned to a single function or combination of commands, all controlled from one easy-to-use interface.
The workflow at the Hurricanes' campus control room also includes a couple of XT3 live production servers and LSM remote controllers for the advanced instant replay capabilities. The EVS system ingests live feeds from events across the campus that operators use to create replays of the action, which are then cut into the live output by Dyvi. 
With EVS' XFile3 system, the production team can back up, stream and restore media files in any format during live productions. 
Improved creativity

Dyvi allows you to create multiple layers in a scene and manipulate each of these layers and their transitions differently.

Reduced complexity

The easy-to-use platform and intuitive interface don't require specialized training, which facilitates the switcher's adoption and incites operators to start using it immediately.

Greater flexibility

Dyvi's GPU-based architecture and stackable processing modules offer outstanding flexibility and scalable processing power allowing UM to easily expand its production capabilities from a single site to multiple locations on campus.

Superior production quality

An integrated, end-to-end workflow that leverages best-in-class live production technology creates the most reliable, high quality and streamlined live production.
"The flexibility to view things on the control surface and make changes in real time without having to start from scratch is a tremendous advantage and timesaver."
Outlook
Designing a completely new production infrastructure gave UM a unique opportunity to implement state-of-the art equipment and a seamless, integrated workflow, led by EVS' Dyvi switcher and industry-standard live production servers.
UM's production team has unparalleled real-time access to and management of feeds with full control of all key switcher functionality - with the uncompressed quality required for professional broadcast content.
"When we knew we were buying EVS products, we knew we wouldn't have to worry about reliability," adds Bradley Canfield, UM video producer. "When you're in a network like ESPN, being able to reassure them that they're in good hands here goes a long way."
The workflow allows the UM production team to handle the requirements of multiple sports in any given season, often occurring within days of each other. Staffers can easily produce coverage of events of varying sizes and types in numerous venues across the campus.
Thomas sums up Dyvi's capabilities and the entire EVS workflow with a nod to their versatility and longevity. "It's mind-blowing what Dyvi can do. We've made a giant leap forward from where we were to where we are now. Not only does our content look more professional, but our workflow is futureproofed for the next five to 10 years."