HD BROADCAST delivers highest sports production standards with EVS XT-VIA servers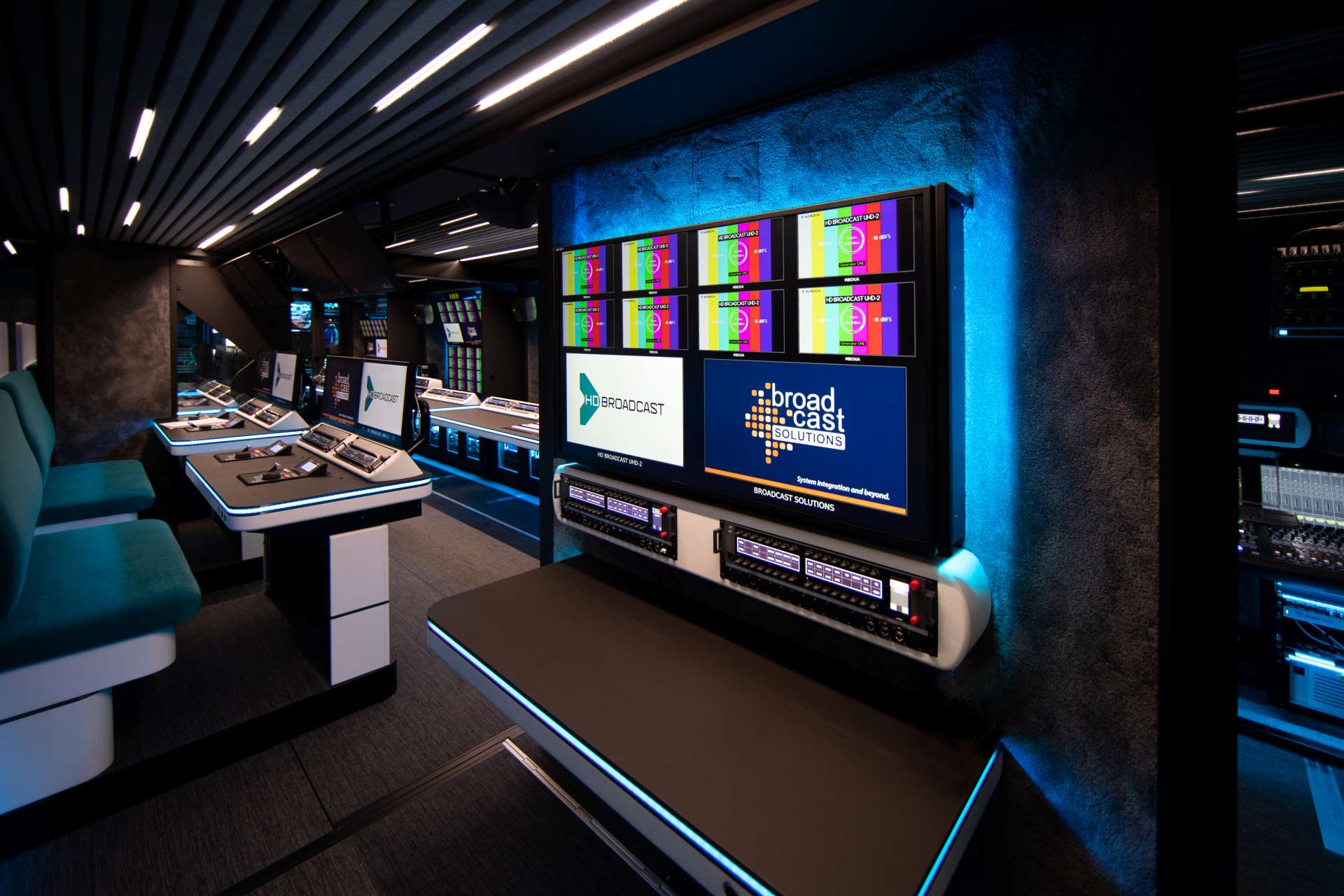 Customer profile
HD BROADCAST is a mid-sized outside broadcast services provider in Germany. Its UHD 2 truck can accommodate 30 cameras and with an interior space of 60 m2 provides a spacious working environment for up to 28 working crew.
The vehicle uses a multi-format production system based on 4K/3G-SDI Quad Link/HD/HDR formats. UHD 2 is designed with three extensions covering the complete trailer length, providing two full control rooms plus multiple engineering, slow-motion workstations and VIP workplaces.
HD BROADCAST's primary production commitments are Bundesliga matches for DAZN and Sky Sport Germany, along with UEFA Champions League games for Amazon Prime. UHD 2 covers one UHD-produced game for each day – Friday, Saturday and Sunday – of a typical Bundesliga match weekend. The OB truck also handles home games in Germany for Champions League, producing both host feed for UEFA and unilateral match feed for Amazon Prime. 
The challenge
State of the art productions for Bundesliga and Champions League require multiple input channels as well as high quality standards such as 1080p, UHD and HDR. These requirements generate high bandwidth demand for each server, as well as through the server network.
The specification for Champions League coverage can also vary from game to game, with different configurations across camera systems, camera angles and slow motion set-ups. Flexibility and bandwidth headroom are required on the part of the OB provider to quickly prepare for matches without incurring the risk of experiencing difficulties on-site.
When UHD 2 first took to the road in 2020 it did so with legacy EVS XT4K servers previously deployed on its HD 1 truck. Over time, HD BROADCAST CEO & CTO Constantin Novotny and his team realized they were beginning to run into bandwidth bottlenecks in servers and network.
"With Champions League games we saw that the operators would like to use so many feeds on the network, because on one side we have to produce the host signal for UEFA and on the other we have Amazon Prime," said Novotny. "Operators want to share feeds and we could see there was a bottleneck in the network and we needed to change."
To achieve configuration flexibility across Bundesliga and Champions League coverage

Sufficient headroom for high server bandwidth demand across all productions

Avoid possibly running into difficulties when preparing for high profile match coverage

Provide full flexibility for operators to easily share feeds across the network

A platform to fulfil all technical and quality requirements for customers into the future
The solution
The HD BROADCAST team needed to increase capacity and flexibility in order to meet evolving production requirements. The way forward was the LiveCeption Signature premium live production and replay ecosystem, for high-profile and large-scale events.
The XT-VIA live production server, a key component of LiveCeption Signature, guarantees an unmatched level of control and precision and offers a boosted capacity of up to six channels of UHD and 16+ channels of HD, making it the most powerful system on the market. XT-VIA supports multiple video formats including UHD-4K, 1080p, and even offers 1080p to UHD-4K upscaling. It also provides over 370 validated I/O configurations to roll out workflows tailored to the user's specific needs, from the same server.
XT-VIA is already built out for HDR broadcasting. It supports HDR in all resolutions and allows HDR-SDR conversions from its embedded multiviewer, removing the need for any additional monitoring investment. The server provides hybrid SDI/IP connectivity and assures full IP interoperability with other systems thanks to approved SMPTE 2110, PTP and NMOS standards.
XT-VIA operates on the XNet-VIA network, providing critical bandwidth and speed for the sharing of high-resolution formats and super-slow-motion content, empowering operators with faster access to more content. Quick and simple to deploy, the XNet-VIA network handles discovery and IP address assignments automatically, removing the complexity associated with IP.
"There was no discussion involved: the new servers had to be EVS," said Novotny. "The only question was what was the best way to do it. The EVS team managed this very well, so we found the solution which is really perfect.
"We changed six machines and now have great flexibility to do everything the customer wants to do on-site. We built an upgrade package which is not only for now but for the next years ahead."
 
"The feedback from our operators was that XT-VIA is very powerful, with fast networking, higher resolution and better picture quality."
Capacity boost

The XT-VIA server platform guarantees an unmatched level of control and precision.

Built out for HDR

Supports HDR in all resolutions and allows HDR-SDR conversion from embedded multiviewer

Competitive advantage

UHD, HDR and networking capabilities of XT-VIA help future-proof the OB provider.

Production harmonization

All servers now include all software licenses, enabling total bandwidth flexibility.
Outcomes
The HD BROADCAST team installed the new XT-VIA servers in just two days – one for installation and one for EVS operator training on the new system. The switch to the new platform was completely transparent to the administrators and operators, underpinned by rock solid EVS technology and proven workflows. 
"We changed in the Bundesliga winter break, but this was very easy as the dimensions of the old and new machines are the same. UHD 2 is two years old and when originally designing the truck, the whole network infrastructure was planned for these machines. Now there are six servers and the truck is wired for ten, so we have plenty of headroom," said Novotny.
The integration of modern formats like UHD and HDR, plus various live IP media standards and high speed networking, help deliver a competitive edge for HD BROADCAST in the German marketplace. One of the advantages of the underlying XNet-VIA network is that it gives operators the ability to swiftly access UHD/HDR content from any onboard XT-VIA server. The OB provider has harmonized its infrastructure as now all servers include all software licenses, enabling total flexibility in the configuration of its productions and the use of clips on the network. 
Having entered the EVS LiveCeption Signature ecosystem, the HD BROADCAST team can now consider enhanced UX for live storytelling thanks to the LSM-VIA replay and highlights system as well as increased interoperability with certified third-party systems, enabling faster turnaround and more creative content – not to mention the ability to easily add AI-based super slow-motion content from any camera angle using XtraMotion. 
"We are a small OB company in Germany with only one OB van, but UHD 2 has the newest cameras and newest EVS servers and this is why we have worked for the last 15 years: the customer knows, when booking us, that we have the newest equipment on the market and the crew is fully trained on the new equipment," said Novotny.