XNet-VIA
Easy media sharing for live production
XNet-VIA is the new EVS media sharing network that allows fast and easy live media sharing between servers and live production tools on the VIA platform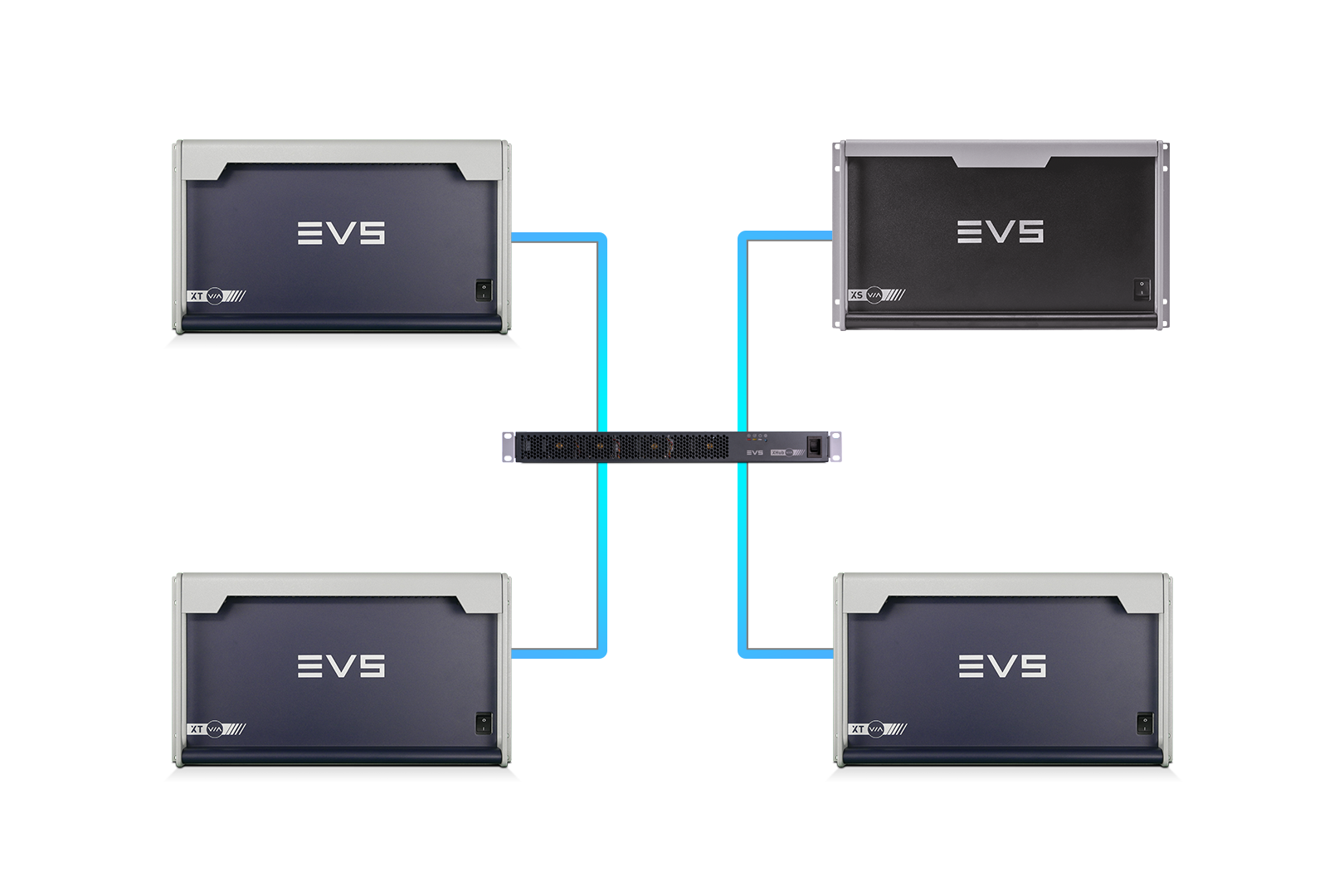 XNet-VIA is the new EVS media sharing network that allows faster, more efficient live media sharing between XS-VIA and XT-VIA servers and future live production tools on the VIA platform. The ethernet network can serve the largest events in the world while providing users with the peace of mind in knowing that they have a secure and easy-to-deploy network for all their productions.
Peace of mind

It is a heavy-load-tested and field-proven network component which supports continuous high bandwidth streams for collaboration in highlights editing and content sharing without worries.

Plug-N-Play

Easy and quick deployment without any complex configurations or settings. Added XT/XS-VIA server are automatically discovered.

Speed

EVS' new media sharing network allows you to share content faster wherever you are located, and supports higher bandwidth for higher resolution networking like 1080p HDR and UHD-4K.
XT-VIA
The XT-VIA production server is designed to meet the most demanding live broadcast production requirements, integrating all new formats and protocols from HD to 8K, SDR to HDR, and SDI to IP in a single versatile solution. Built from EVS' live engineering expertise, XT-VIA guarantees an unmatched level of control and precision and offers a boosted capacity of up to six channels of UHD and 16+ channels of HD, making it the most powerful system on the market.
XS-VIA
With XS-VIA, large broadcast center and studio operations can benefit from EVS' trademark reactivity and robustness, along with its unique Loop Recording technology. The server is optimized for the recording of multiple audio and video feeds, as well as instant control and multiple channels of playback operations. Offering higher UHD-4K channel density and supporting both SDI and IP environments, XS-VIA is designed to suit all your production needs.
XHub-VIA
XHub-VIA is a 19" 1RU network hub which manages all your XT-VIA and XS-VIA network connectivity. It can serve 2 purposes:
1. Connecting all XT/XS-VIA servers to add them to the same XNet-VIA internal network
2. Aggregate the 10Gbps connections from one XT/XS-VIA server into two (redundant) 100Gbps Live IP links
One XHub-VIA can be either used in XNet-VIA mode or in Live IP mode. It does not support both applications at the same time.
View all services