RT Software's Sports Analysis Solution for EVS Servers
Customers who are focussed on fast turn around sports shows need telestration software that works as quickly as their EVS servers do.
RT Software's Tactic Pro is the fastest telestrator on the broadcast market. It includes AI features to accelerate laborious tasks and make operators' lives easier, allowing them to focus on delivering the very best in analysis sequences in the shortest possible time. RT Software calls this 'Next Gen Analysis™'.
Tactic Pro's integration with EVS ensures that operators can work in parallel instead of tie-ing up a valuable EVS port. When a clip is ready on the EVS server it is transferred to Tactic Pro using VIA Xsquare to have analysis graphics added to the clip.
Tactic Pro then uses AI to understand the shape and angle of the pitch. It automatically calculates the pitch angle so all the graphics that are added match the camera angle. Another great AI feature automatically tracks the players on the pitch so that graphics travel with them as they move.
There is a great range of graphics that can be added to engage the viewers. As well as spotlights and arrows, Tactic Pro includes team names, team players and team logos, all included to make sure operators spend their time focussed on the analysis and not system setup.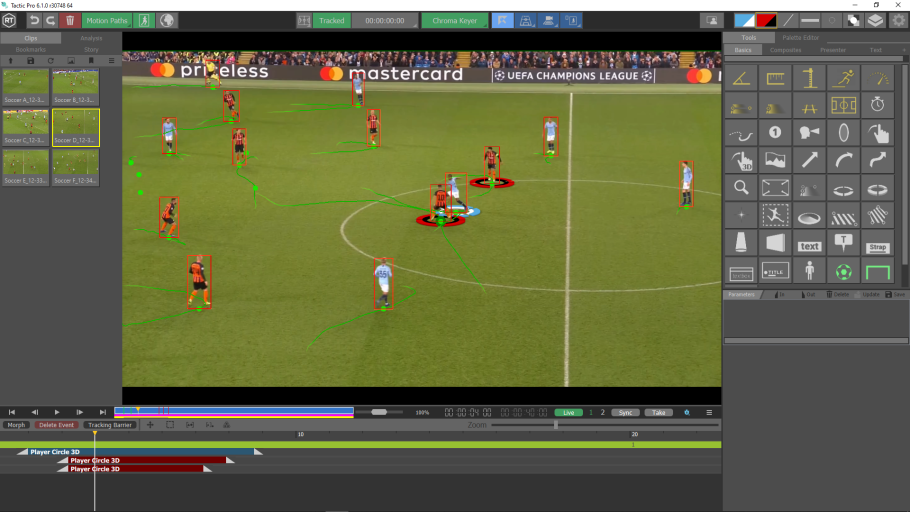 EVS and Tactic Pro workflow:
EVS operator creates a new clip
Tactic operator imports into Tactic Pro using VIA Xsquare (which avoids tying up an EVS port)
Telestration graphics are applied with AI accelerating tasks for the operator
Two playout options are available:
Play direct to air from Tactic Pro
Transfer back to EVS for the EVS operator to play to air
Tactic Pro supports SDI, NDI and ST2110, in HD and UHD
Key features of RT Software's Tactic Pro
AI Powered Automatic Player Detection

Tactic Pro uses advanced machine learning algorithms to detect players and create their motion paths. Just drag and drop a graphic on to a player and let the system do the rest. Create complex analysis sequences with multiple tracked players in a fraction of the time it would take using competitor's systems.

AI Powered Pitch Calibration

With Tactic a single click is all it takes to automatically calibrate your graphics to the camera perspective. We challenge you to find a telestrator that's as easy to setup as Tactic! We are confident you will not find a quicker system on the market today. Our AI works for several types of pitch, for example: football (soccer), American (NFL) and Australian (AFL) are all available.

League Packages

We supply team colours, player names and logos so you can focus on analysis of the action. Just select the player and add a plinth graphic with their name, colours and team logo at the click of a mouse!

Touchscreen and Tablet Support

Put analysis in the hands of the presenters allowing them to tell the story live on camera by using a touchscreen or handheld tablet. You even have the option to customise the user interface to match your own branding.

Metric Based Graphics

Metrics based graphics (speed, distance, etc) help bring deeper understanding to analysis by showing exactly how far apart players are, for example. All possible thanks to Tactic Pro's AI Pitch Detection which means it understands the distance between any points on the pitch. Available on a range of sports such as football, rugby, hockey…